David Naimon
is creating Podcast Interviews with Your Favorite Writers
Select a membership level
With a donation of $1 or more per episode I am happy to list your name in the honor roll on the podcast page (with a link back to your website)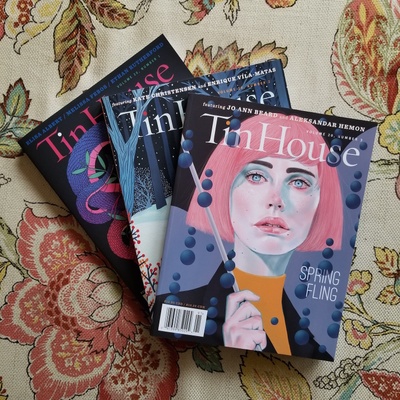 Back Issue Bundle
Three magazines from the Tin House archives for new supporters in the U.S. who give $2 or more per episode (& who in good faith aim to be supporters for at least 1 year)
Magical Negro by Morgan Parker
Limited (1 of 6 remaining)
Morgan Parker's latest poetry collection Magical Negro for patrons  with a U.S. mailing address who pledge $2 or more per episode (& in good faith aim to remain supporters for at least one year)
About David Naimon
I am the host of the literary radio show and podcast
Between The Covers
.  It's a labor of love, not something I get paid for, About 30 hours of work per episode, with
20 to 24 episodes total each year.
  Your support makes this show possible, a sustainable effort for me. 
Notes on Becoming a Patron and Patreon Rewards
There are 20 to 24 episodes each year
Patrons are never charged for more than 2 episodes/month
"Tin House Live" episodes are free
Rewards will be mailed out after the sixth episode of support
Rewards are for patrons with a U.S. mailing address. 
If you sign up for access to the bonus audio archive ($3/episode or above) you will see the option to subscribe to your own individual bonus audio feed
$602 of $1,000
per Podcast Episode
Arriving at this milestone would be a huge step toward making this dream into a sustainable reality, toward making these deep dives into the lives and art of writers into an actual livelihood. 

7 of 8
Recent posts by David Naimon