Becca Gowdy
is creating Fantasy World Art
Select a membership level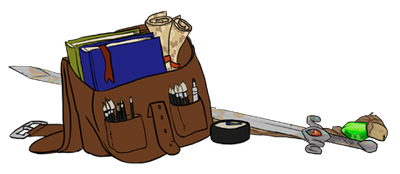 Adventurers
Sketch Request upon joining
Early Art Posts
Early Videos
Concept Art
Alternate or Deleted Scenes
Works-in-progress & Unfinished Work
see details here

Heroes
Sketch request upon joining
Walkthroughs
Extra Process Videos
Patron Exclusive Videos
Art Package every two months
Coming soon: 
Resources to make your own worlds!
More Frequent art packages

About Becca Gowdy
About Me
Bex at the Desk
|
Patreon Archive
|
Instagram
| FAQ
Hello! My name is Becca Gowdy. I also go by Bex. You may also know me by the username bluedrgnMethy on DeviantArt or other sites. I'm a semi-self-taught artist (my childhood was spent with computer paper and crayons as I drew my favorite cartoon characters) and fantasy writer who has quite a few projects going on at the same time.
What I do is....Worldbuilding
I create fantasy worlds and everything in them to accompany my stories. With my talents in art, I can draw concept art of creatures, races, architecture, and other things. with my talents in writing I love developing magic systems, government, cultures, history and more! Once my stories are written and published, I want to have complete companion books with all this info in them, and hopefully inspire more people to create!

Why Patreon?
I've always been told that if I'm an artist I'll struggle to find a job. But why can't art BE that job? In college I developed a deep depression and it has followed me to this day, causing troubles in my relationships and jobs. My jobs were nice, the people were friendly, but they didn't fulfill me. I cried and cried about having to throw the best hours away for driving or working. I couldn't work eight hours and only leave a few for my personal work, I wanted my work--my CAREER--to be my calling. I wanted to set my own hours when my creative drive presented itself, in a safe, relaxing place, with my things around me. I wanted to be the free-spirit. But a free-spirit still needs money to eat and support itself. Supporting me on Patreon not only does that, but gives you--MY FANS--a direct line to my work.
My Worlds:
Methy
--My main fantasy world, in another galaxy that is ruled by magic and has an ancient tie to Earth. There are six races, three native, and three non-native. A lot of the native cultures are based on "what-if Native Americans were more dominant than Europeans?" where the non-native cultures are alien, mixed, or unknown.
Grior
--A planet neighboring Methy, with layers of unconnected plates. the main story takes place on an outer layer plate, where its warm and filled with oceans. Everyone there bonds with animals, and their magic has deep ties to the place they were born.
Luumbelir
--A shared world with my cousin. This world runs by logic, even though it's fantasy. The magic is based with laws like science and each race has it's own system. There are five races: Dandin, Ileon, Honrim, Korzang, and Rinder.
Trivial World
--This is more of a multiverse than a world. The Trivial World (once Cartoon World) was based on my imaginings as a child, hanging out with my favorite cartoon, book, movie, and story characters and saving the world(s). A whole mythology sprang from those imaginings, revolving around real-worlders having powers in the trivial world based on talents.

Feel free to contact me if you have question or want to get in touch. My commissions are always open!

New Supplies!
With this goal I'll be able to get some more supplies a month, and I'll be able to mail personalized art!

1 of 3
Recent posts by Becca Gowdy
By becoming a patron, you'll instantly unlock access to 76 exclusive posts
By becoming a patron, you'll instantly unlock access to 76 exclusive posts