Becca Gowdy
is creating Fantasy World Art
Select a membership level
Call to Adventure
Adventurers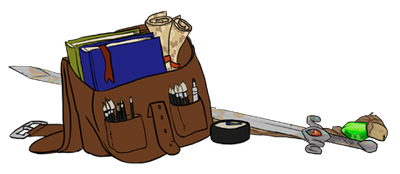 Heroes
Risk the fight and win the hoard!
Suggest-a-Tutorial
Full progress of art with explanations
30% discount off commissions
Twice as many videos, concepts, and posts
see details here
About
About Me
Bex at the Desk
|
Patreon Archive
|
Instagram
| FAQ
Hello! My name is Becca Gowdy. I also go by Bex. You may also know me by the username bluedrgnMethy on other sites. I create fantasy worlds and have what's called
Worldbuilding Disease
.
What I do is....Worldbuilding
Worldbuilding is the process of constructing an imaginary world (or a constructed world). An author creates the history, geography, ecology, people, magic and technology systems, governments, and culture of these worlds. It can be in depth or shallow, depending on the author's preferences. Every story as a bit of worldbuilding, even in a completely current story set on Earth! 
What I like to do is worldbuild and create images to accompany them. Once my stories are written and published, I want to have complete companion books with all this info in them, and hopefully inspire more people to create!
Just a few of my worlds:
Methy
--My main fantasy world, in another galaxy that is ruled by magic and has an ancient tie to Earth. There are six races, three native, and three non-native. A lot of the native cultures are based on "what-if Native Americans were more dominant than Europeans?" where the non-native cultures are alien, mixed, or unknown.
Grior
--A planet neighboring Methy, with layers of unconnected plates. the main story takes place on an outer layer plate, where its warm and filled with oceans. Everyone there bonds with animals, and their magic has deep ties to the place they were born.
Luumbelir
--A shared world with my cousin. This world runs by logic, even though it's fantasy. The magic is based with laws like science and each race has it's own system. There are five races: Dandin, Ileon, Honrim, Korzang, and Rinder.
Trivial World
--This is more of a multiverse than a world. The Trivial World (once Cartoon World) was based on my imaginings as a child, hanging out with my favorite cartoon, book, movie, and story characters and saving the world(s). A whole mythology sprang from those imaginings, revolving around real-worlders having powers in the trivial world based on talents.

Feel free to contact me if you have question or want to get in touch. My commissions are always open!
Milestone: $20/1-5 patrons
I will mark this milestone by: undecided

1 of 5
By becoming a patron, you'll instantly unlock access to 84 exclusive posts
By becoming a patron, you'll instantly unlock access to 84 exclusive posts
Recent posts by Becca Gowdy