Sokari Ekine
is creating visual narratives on African Diasporic Spiritual Practices
Select a membership level
Droplets - $1 or more
Thank you, you are the beginnings of great things to come. Enjoy my creations right here: sokariekine.me and after 12 months I will bless you with a 4 x 6 post print of your choice. 
Spring showers - $3 or more
Thank you, the sun is on the horizon, every 3 months you will be blessed with a 4 x 6 post print of your choice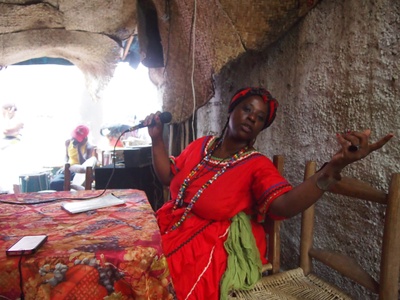 Rainbows - $6 or more
Thank you, the rainbow is out and , every 3 months you will be blessed with a 5 x 7 post print of your choice
About Sokari Ekine
First thank you for dropping by...........
How This Works 


Do the photographs I create, move you, inspire and or bring you joy? If yes then you could directly support my creativity here on
Patreon*
.    
The Pledge* 

*You can make a
monthly
pledge as little or as much as you like on from $1 upwards - there is no limit so feel free to express your joy in the most expansive way you can manage.....
*You are charged when you pledge and then
ongoing at the beginning of each month.
*You can cancel your pledge or change your pledge amount at any time.
Who am I? 
I am a Nigerian Diasporic, Quar Black Feminist Neo Sexual. I also used to be a nomad but now I am happily settled in New Orleans. 
Spirit Desire
Spirit Desire is a series of photographic essays that explore African Diasporic spiritual practices in Haiti, Kenya, and Southern US; those in-between spaces, above and below, visible and invisible that constitute the many worlds that exist in harmony.
Spirit Desire:
- Resistance, Imagination and Sacred Memories in Haitian Vodoun" is the first in the series and is a celebration of Haitian Vodoun as a site of resistance, decolonization and community. In these images we witness the freedom of an unbound imagination that recognizes the power of the self and the spirit within us as a multidimensional force which stretches far into the past and into the future.
In "Spirit Desire: The Vernacular of Freedom, and the Politics of Rescue in Queer Futures" I contemplate the centrality of spiritual practice for queer people of African heritage in Kenya and Southern US; who we are, the contradictions in these spaces and times, and our spiritual selves. We see our many spiritual practices as acts of decolonization – 'freedom narratives'.

Your support will go towards various aspects of my work: completing a photo book of my work in Haiti; purchasing printing supplies; work related travel costs near and far; bring additional sustenance and joy to my daily life.   
50+ patrons will be great in helping me move forward with the Spirit Desire project here in the US
1 of 1
Recent posts by Sokari Ekine