Bobby Poe and The Poe Kats
is creating support for a feature film via movie industry advertising, etc.
Select a membership level
Receive iTunes Track of Your Choice!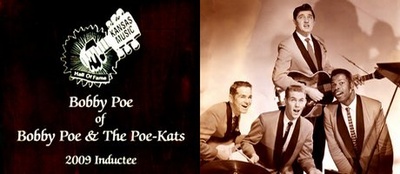 For your $5 support of my efforts to get this film made, I will gift you with any ONE iTunes track of your choice from "The Rockabilly Collection" by Bobby Poe and The Poe Kats. This compilation features original, remastered tracks from the 1950's.
Receive Your Choice of Paperback or CD!
For your $50 support of my efforts to get this film made, I will gift you with your choice of "The Rockabilly Collection" CD by Bobby Poe and The Poe Kats OR the paperback version of "Bobby Poe and The Poe Kats - An Autobiography In Screenplay Form".
About
I have been around the music business for most of my life and I've worked in it for almost as long. My father had his own Rockabilly band in the 1950's, Bobby Poe and The Poe Kats. They were the legendary Wanda Jackson's first Rock 'n' Roll touring/recording band and featured African American piano player/vocalist Big Al Downing. In the early 1960's, my dad started managing and producing bands, including The Chartbusters. Tom Hank's once said in People Magazine that The Chartbusters were one of the inspirations for his film "That Thing You Do!". I grew up around all of this and loved it!

     In the late 1960's, my dad start several radio and record industry "tip sheets", the most popular being Bobby Poe's Pop Music Survey. In 1979, I joined my dad as Editor of Pop Music Survey, a position I held until my dad's retirement in 1996. Over those years we presented an annual Convention that was extremely well supported by both radio and records.

     After my father's retirement, I tried my hand at managing bands and releasing records on my own label. I can't say I had much success, but it was literally something I HAD to do...just as my dad had been compelled to do decades earlier. After that, my dad and I teamed up once again to present his favorite Country music artists in concert, which was truly a labor of love. In the five year period we presented these concerts, we featured such artists as George Jones, Loretta Lynn, Ray Price, Don Williams, Marty Stuart, Tanya Tucker and many, many more.

     When my father retired once more (after we closed our concert business), I took it upon myself to encourage him to write his memoirs. It was a slow process, especially after my dad developed throat cancer, but my dad was a natural storyteller and I was able to act as an Editor once again. Together, we completed his autobiography shortly before he passed away. I was also able to release my father's music to a wide audience via iTunes, Amazon, Spotify, etc.

     Since the way my dad presented his memoirs was very conversational - and especially since I in no way had experience as a ghostwriter or an author - we decided to present his autobiography in screenplay form. I always thought it worked surprisingly well and I published it through Amazon. Over the years, I've felt more and more that my dad's story of making music and being on the road with an interracial band (not to mention often with a female front woman) in the Jim Crow South and Midwest was a story deserving of the silver screen. To that end, I have now gone in search of "Patreons"...

When I reach $500 per month, I'll begin my media advertising campaign and I will include the names of my top 10 "patreons" if they want their names included.
1 of 1
Recent posts by Bobby Poe and The Poe Kats