Brent Scheneman
is creating Think Tank 2.0 Game Show
Select a membership level
Understudy
Think Tank's Wading Pool -- A pleasant space to get your feet wet and meet with other patrons and players from around the world with exclusive  access to our Discourse Live Chat Room.
Production Assistant
In appreciation for your pledge please consider yourself a member of the Think Tank 2.0 Game Show creative team. Stun us with your big, juicy idea that we can help bring to Life. Or, we can find something helpful for you to do behind the scenes.  At least, sign in at our Discourse Live Chat Room with your all-access pass credentials and hang out back-stage with the cast and crew.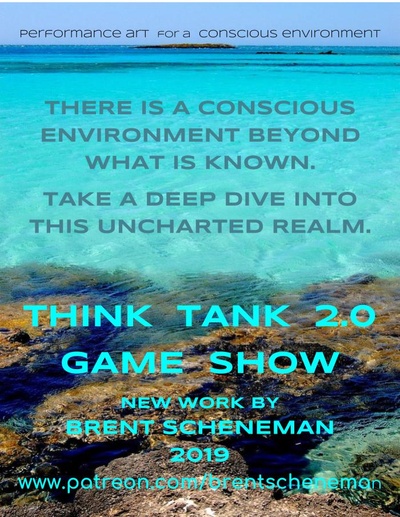 Supporting Role
In gratitude, the Think Tank Players will ship to you this 16 x 20 authentic TT2 poster. From a special edition and printed on satin finish, the work is signed and personalized by Brent Scheneman in commemoration of the launch of our new work of performance art. Thanks for the support!
About Brent Scheneman
There is a conscious environment beyond what is known. The Think Tank 2.0 Game Show --a work of art produced and performed by the Think Tank Players --dives into this uncharted realm. 
I'm Brent Scheneman, the creator of this conscious environment and your dive-master into the depths of something new. The game is set in a mythic world where all of Life is in peril. Our heroes develop a dynamic global strategy powerful enough to overcome the evil forces of destruction and return the biosphere to healthy sustainability. 
The action begins as our characters make their appearances in multifarious roles as part of a merry band of wise, brave and creative visionaries. In the scenes that follow, the plot deepens and twists as we follow the action --at times, live-streamed.
Can the Think Tank Players reason, conceptualize and dramatize new global strategies and techniques powerful enough to overcome the evil forces and to launch, just in time, a new age of peaceful sufficiency for all? 
Ideas are discussed, concepts are brain-stormed and new works of art are debuted --all inspired from the results of our ongoing adventure as we investigate problems and forge solution strategies in our attempts to stabilize this neo-mythic biosphere.


We are grateful that you are here in our support. Beyond your monthly pledge, the sharing of your views and talents via our Think Tank 2.0 inter-active features is part of the game.  Creativity and talents will drive the story forward and can bring the fun to the experience. Good energy is our mission. Adding yours to the show is a great benefit in so many ways. 
The launch of The THINK TANK 2.0 Game Show begins in 2019 with the debut of Part 1.
   Our first goal after we debut the first of our cast of Think Tank Players and launch the first few episodes of the TT2 Game Show is to attract a few dozen (20  to 50) epic patrons and get the show trestled up for a long run.
    These patrons, our early adopters, will be the first to experience the Game Show videos and have exclusive access to the artists through our regular postings of behind-the-scenes content showcasing each Think Tank Player.
   In turn, a few from our premiere audiences of patrons and viewers may inspire to become more deeply engaged in the work and become welcomed to join the cast and crew. The formation of such a crowd-sourced, ancillary production team will become a unique feature of the work.
   When we reach this threshold, TT2 Game Show will launch Part 2 and debut new features like our Live Chat Room. The episodic performances evolve to a more inter-active adventure as patrons can participate in robust dialogues, foster new script ideas for future episodes and explore ways to join the action --all in real time.    
1 of 1
Recent posts by Brent Scheneman