Brooklyn Raga Massive (BRM)
is creating Indian Classical and Raga Inspired Music Community
About Brooklyn Raga Massive (BRM)
Brooklyn Raga Massive 
(BRM) is a vibrant community and cultural engine preserving and promoting South Asian classical and contemporary music and art through community engagement, live concerts, education sessions, music podcasts, and recordings.
By supporting BRM on Patreon, you will get access to exclusive/ first previews of music tracks from our collective, videos, whole concerts, writings from the collective and more. It is generous Patrons like you that can help keep this music community alive and vibrant!
The community includes dedicated musicians, a diverse listening audience and has the support and blessings of several world renown Elder Maestros of South Asian classical music. Through collective performances of Indian classical music as well as new artistic content rooted in South Asian musical forms, this is a birth of new music genres indigenous to NY.
BRM has produced over 500 concerts including a weekly concert and raga jam session running for over 6.5 years. These events have been fundamental in cultivating community by creating a relaxed, informal social setting where musicians and music lovers can connect on a regular basis. Appreciators of all musical styles are welcome, thus fostering a more open exchange of ideas. BRM draws a noticeably more diverse audience than traditional Indian music concerts due to a relaxed settings and by encouraging cross cultural collaborations with other non-Raga based musical forms.
Join us in keeping RAGA ALIVE!
If you want to submit your Indian Classical and Raga-inspired concert date and info (worldwide) use this link https://docs.google.com/forms/d/1Q6zrigsJ9rAr5EAPKLAHMgozamMgtNUz6HxlsdiEMQw
Select a membership level
Community Access
Access to our Membership Feed including Old-Skool Track Reviews, Community Concert Calendar Listings, Basic Audio / Video Content
Premium Audio Access
Get your listening on with all the music and audio content - exclusive MP3s of BRM ensembles and musicians + previous Tier.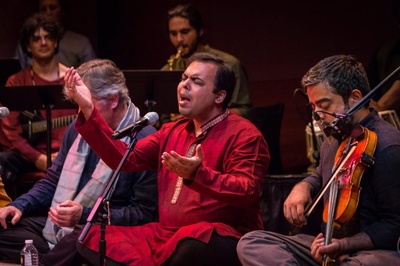 Premium Video Access
Previous Tier + patron exclusive videos, Full length concerts and Behind the Scenes footage of BRM ensembles, studio and live productions (as well as all kinds of other video stuff)
As we grow we are considering more tiers:

• One-on-One with BRM Artists
• Submit your track to BRM's Community Playlists
• Discount Tickets to see BRM Live

1 of 1
Recent posts by Brooklyn Raga Massive (BRM)