Bucko
is creating paintings, BIG PAINTINGS! We'll hang them on big buildings.
Select a membership level
Squareshooters
Straight from the hip, Squareshooters are the medium sized squares that give special detail to the project.
Perks to be announced.
Skyscrapers
Making the city beautiful with artworks hanging from buildings.
Perks to be announced.
About Bucko
My dream is to leave a big beautiful legacy. My ultimate Patreon goal is to create a massive 6-by-150 foot painting that will hang from a building in downtown Ottawa. I love making my art part of the cityscape and accessible to everyone. 
Welcome to the
Bucko
Patreon page! I'm an Ottawa based artist with a disability. I love creating abstract paintings and performing improvised electronic music. My name is Chris Binkowski and I sign my work as Bucko. 
I have Duchenne's muscular dystrophy and use a ventilator to help me breathe. The doctors said I'd be dead by 20 years old. I'm now nearly 40! I live on my own and have experienced and accomplished many things. My paintings have been exhibited at Tangled Arts + Disability in Toronto. I've performed at Nuit Blanche, opened for Rich Aucoin and DJ'ed the National Arts Centre's Republic Of Inclusion.
My vision for life is grand. Thanks for joining me on this ride. Go big or go home! :)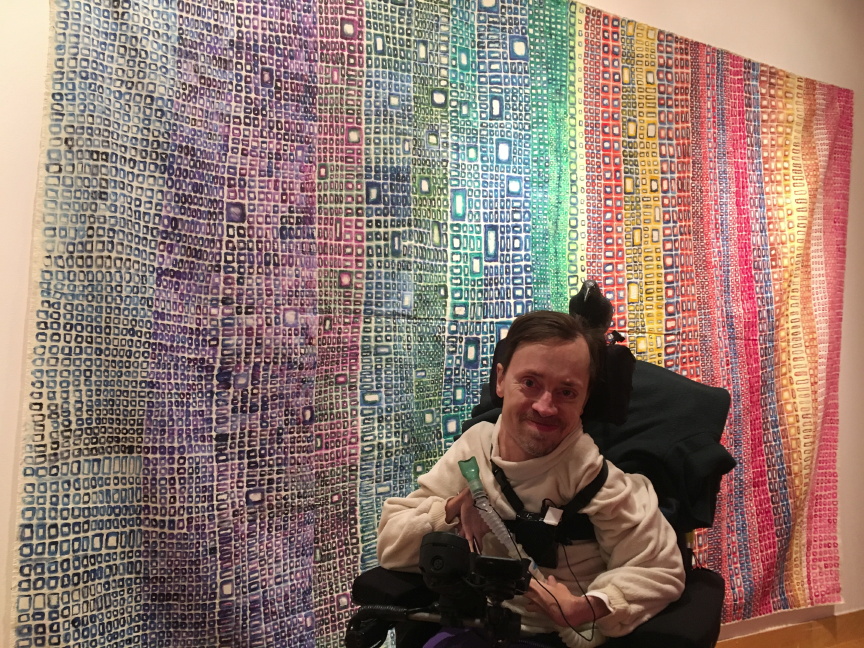 Bucko in front of his painting Mountain I at Tangled Arts + Disability, Toronto, March 8, 2019.
One of my greatest artistic accomplishments in life was painting two 7 by 9 foot abstract acrylic paintings called Mountain I and Mountain II. I invited volunteers and friends to help position the canvas, paints and brushes so I could paint it on my own. I couldn't see the entire paintings as I worked. I filled it in square by square building it up like the moments and people we collect in life. The whole process felt like climbing a mountain. This giant object that you can't see fully and you have to climb step by step. Once you get to the top you can look upon all that you went through.
It feels so cool to have created something beautiful and bigger than me.
Another great thing in my life was busking and performing electronic music. In 2013, a friend helped me build a mobile sound and light system. We designed a plexiglass shelf for a portable amp to mount to my electric wheelchair. I would connect my iPhone to the amp and perform music using the Figure app. Then I figured out a way to hook up batteries to LED light strips and I would have them wrapped around my wheelchair. I did it over 80 times and made lots of friends (and money!) going out on the streets of Ottawa with my mobile sound and light show. That exposure led to being invited to perform at Nuit Blanche and other festival and club gigs.
One of the best parts of busking was becoming part of the city "fabric." As a disabled person, it is tough for me to go out. I deal with a lot of isolation. Being outside and actively participating in everyday life by making beautiful sounds was very rewarding. I felt very much a part of society in those moments. The Mountain painting sessions also brought people into my space to work on creating something beautiful. This helped with my loneliness and helped give my life extra purpose. My art has often been a way to make friends and connect. The hundreds of squares in Mountain are all connections.
For the past few years, I haven't had opportunities to do these things. I was forced to move out of the downtown area and my care providers have limited my ability to do things. My current home is too small to work on a Mountain style painting. I need to change that. My dream has always been to live downtown and have a personal team of amazing caregivers. This will allow me to maximize being part and contributing something awesome to the world.
Creating a massive painting to hang on a building would bring together so many elements of my life. It would be part of the fabric of city life. It would be created through many people supporting the vision. A symbol of striving to create something bigger than ourselves. I'm a big fan of Rothko, Christo and Chuck Close.
Create a professional welcome video. Do a poster campaign. Expand online promotion.
1 of 12