Bucko
is creating music and paintings to admire and inspire.
Select a membership level
Vogel
Herbert and Dorothy Vogel were famous New York art collectors of undiscovered artists. Thank you for being a Vogel to Bucko. All access to Patron-only posts.
Geffen
David Geffen revolutionalized the music industry, releasing important albums by Neil Young, John Lennon, Nirvana and Sonic Youth to name a few. Thank you for making my music possible. All access to Patron-only posts.
Guggenheim
Peggy Guggenheim and her uncle Solomon established one of the most important art collections in the world. Thank you for your world class support. All access to Patron-only posts.
About
Welcome to the
Bucko
Patreon page!
Bucko busking in Ottawa, 2013. First version of his mobile sound and light system. Using an iPhone to perform electronic music.
Who Is Bucko?

I am a multidisciplinary artist based in Ottawa, Canada. I perform synth-based electronic music using an iPhone and a custom sound system mounted on my power wheelchair. I've created massive abstract acrylic paintings on raw canvas spanning up to seven by nine feet. My name is Chris Binkowski and I sign my work as Bucko.
What Does Your Support Pay For?
Your support helps me to pay for audio equipment, recording costs and art supplies. It also allows me to hire the studio musicians, producers, assistants and caregivers that enable the creation of my art.
I have Duchenne's muscular dystrophy and use a ventilator to help me breathe. I require twenty-four-hour care to live on my own.
What Do Patrons Receive?
Depending on their reward level, patrons get regular updates about what I'm working on, access to previews of my music, a digital painting and an invitation to a monthly livestream.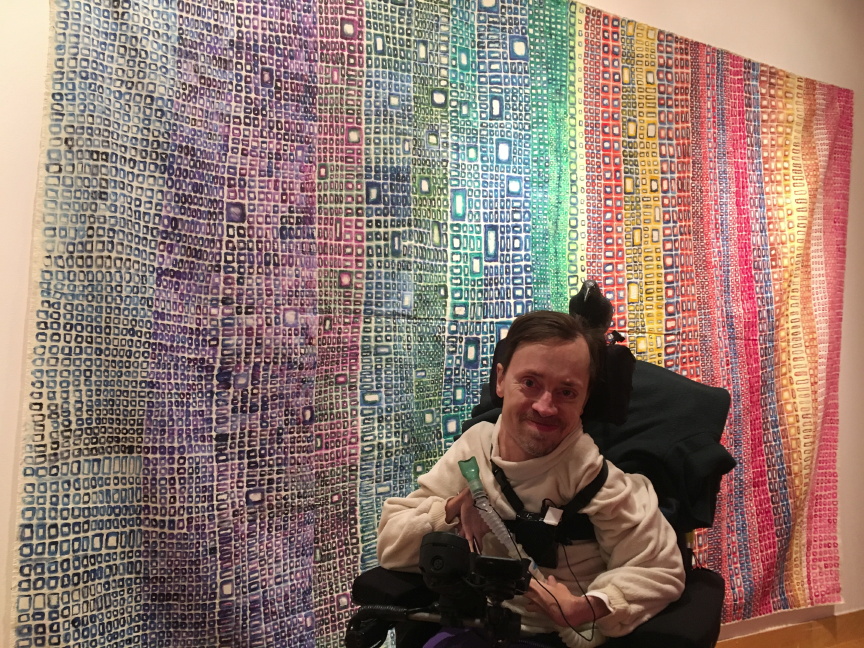 Bucko in front of his painting Mountain I at Tangled Arts + Disability, Toronto, March 8, 2019.
Hire an assistant to work 20 hours a month to help create content and promote the project. Create a professional welcome video. Do a poster campaign. 
1 of 4
By becoming a patron, you'll instantly unlock access to 4 exclusive posts
By becoming a patron, you'll instantly unlock access to 4 exclusive posts