Cabra Xadrez
is creating Videos about chess and computer related
Select a membership level
The Chess Hamster
Awesome! Thank you a lot! That coffe was exactly what I needed today to cheer me up to another video. I'm so glad you enjoy the channel to the point of supporting it. See you later!

Maravilhoso! Muito obrigado! Este café era exatamente o que eu precisava hoje para me animar a fazer um outro video. Eu fico muito feliz de saber que você está gostando tanto do canal ao ponto de dar seu apoio. Até depois!

Capibara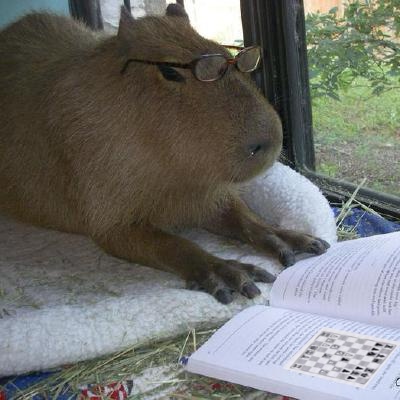 The capibara helps to make the world a better place.

I thank you deeply for your donation and the effort it represents to show up and support a our channel.

A capivara ajuda o mundo a ser um lugar melhor.

Eu lhe agradeço profundamente por sua doação e pelo esforço que isso representa em você aparecer aqui e dar suporte ao nosso canal!
Goatling
The goatling is the second level apprentice of the Cabra Xadrez Club! Deeply devoted to make the channel and his/her own game something that cheers the eyes!

You will be quoted nominally in the first video of the next month, as a thank you note for becoming a patreon! Thank you so much, it is your help, together with other enthusiasts, that allows me to dedicate my time to create this content.

O cabrito é o segundo nível de aprendiz do Clube Cabra Xadrez. Está profundamente devotado a tornar o canal e o seu próprio jogo em algo agradável aos olhos!

Você terá seu nome citado no video do mês seguinte, como agradecimento a ter se tornado patreon! Muito obrigado, sua ajuda, somada a dos demais entusiastas, é que permite eu dedicar meu tempo para criar este conteúdo.

About
Welcome to Cabra Xadrez chess channel!

I'm Prof. Dr. Ruben Carlo Benante, Ph.D in Artificial Intelligence and a lousy chess player that will guide you through nice chess analysis, reviews of computer chess programming and other great stuff. I'll be doing videos in English and Portuguese, but as we advance, I'll bit by bit move to English only.

Don't worry, if you are a Portuguese speaker use that as an incentive to learn the most widely spoken language in the world! Depending on how Patreon goes, maybe I can get some free time to  help with captions. Don't be shy if you want to create captions, as most of my job I like to support open source and free software, and we are built with community effort.

That is what Cabra Xadrez is! A new club, with focus on doing playful, enjoyable, fun and educational videos for all ages, about chess and computer chess.

Thank you so much for your contribution. All money raised here will be used to buy equipment, computer chess to test, and video equipment to help record better videos for you, with better sound; pay the internet optical link, and so on.

Any amount is very welcome! My best!

Lets do this! Together!