Cat Rambo
is creating Stories, Community, and Love
Select a membership level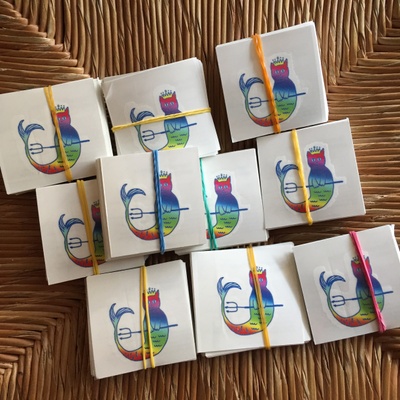 Cat's Posse!
You're helping fund the production of short stories. This gives you access to a new story or chapter each month, occasional glimpses of early drafts of new work, plus 2-3 posts each week with snippets from what I'm currently writing.
Includes
Join Cat's community
Patron-only content feed of stories, drafts, and writing snippets
Special patron-only meet-ups and souvenirs at conventions
Special rate on live classes through the Rambo Academy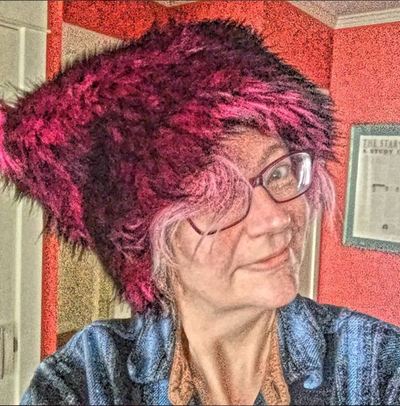 Posse plus!
You get the satisfaction of supporting short stories while getting both basic Posse reward, plus a daily writing prompt, tip, or other resource.
Includes
Everything from the $1 tier
1-3 market news, writing tip, and resource posts each week
Monthly photo of Taco or a reasonable substitute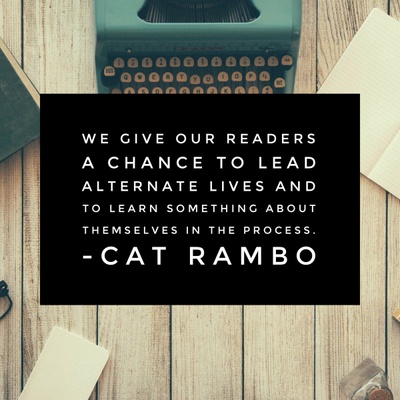 Virtual Coffeehouse
Come in and sit a spell. All lower tier rewards plus access to a private Chez Rambo Discord channel for discussion of books, F&SF, writing, and random pictures of baby goats. 

Includes
Everything from the $2 tier
Access to the Rambo Academy Discord channel
About Cat Rambo
Thank you so much to my rocking Patreon supporters, who let me know that I'm not just shouting out into the void! Your community keeps me going.
You should pledge if:
You like what I'm doing and want me to keep doing it.
You want fiction and inspirational posts each month.
You like my stories and want to ensure there's more of them.
You're interested in supporting new models of crowdfunding.
You want to subscribe to the Rambo Academy and get access to new classes as they appear.
While every month features a few public posts, for patrons I post one or two stories or chapters from current work each month along with other special patron-only content about story inspirations, writing process, f&sf news, recipes, weekly Q&A, and a chance to talk about the story with me. You'll also see early drafts, doodles, random observations and interesting links, photos of things I am obsessed with, such as cats, coffee, and Breyer horses, and more.
Supporters at $2 and up have access to the Chez Rambo Discord channel, which includes #critclub, a community for swapping story and novel critiques with fellow writers and #motivation, featuring co-writing sprints plus tips, resources, and genre gossip.
I run
The Rambo Academy for Wayward Writers
, an online writing school providing self-paced learning from instructors like myself, Ann Leckie, Rachel Swirsky, and Seanan McGuire, among others. Patrons will receive special discounts on its classes as well as coupons and freebies from time to time. If you're a frequent client, in fact, you may find combining that with a Patreon pledge the most efficient economically. 
Here's a listing for the upcoming live classes.
If you're new to my work, I write both fantasy and SF. Here are some of my favorites:
English Muffin, Devotion on the Side
(near future SF),
Tortoiseshell Cats Are Not Refundable
(near future),
On the Big-Fisted Circuit
(near future, giant fighting robots),
Love, Resurrected
(fantasy, zombies),
Clockwork Fairies
(steampunk),
Five Ways to Fall in Love on Planet Porcelain
(slipstream, Nebula-nominated, trigger warning for sex and violence).
I've got 200+ fiction publications, and have been nominated for Endeavour, Nebula, and World Fantasy Awards.  Most of my publications are short stories, but my second novel,
Hearts of Tabat
, appeared last May from Wordfire Press. Next year Tor is publishing my space opera,
You Sexy Thing
, and the third Tabat book,
Exiles of Tabat
, will come from Wordfire. Expect plenty of snippets and teasers from work in progress; but I'll also post some early drafts of stories that are going out in submission.
I also used to edit
Fantasy Magazine
, and in 2014 guest-edited
Lightspeed Magazine
's Women Destroying Fantasy issue. If you were a fan of
Fantasy Magazine
under my editorship or enjoyed
Women Destroy Fantasy,
I'm taking advantage of the Patreon milestone as well to set a challenge for all the people who keep telling me they want to see me at the helm of a magazine again. Help me hit the $2500 mark and I'll be able to afford to start buying fiction from other people and putting together a publication known for excellence, experimentation, and diversity. If you're one of the people who come up to me at conventions and wistfully express how much they loved my rejection slips, well then... it's within your power to make it happen by donating and/or spreading the word.
This campaign arose as an experiment to use up the backlog of short stories I'd accumulated and see what works better: traditional publishing or this model. Stories include urban fantasy, sword and sorcery, near and far SF, secondary-world fantasy, the occasional piece of lit fic, and who knows what else. Since starting this mid 2014, I've been reasonably satisfied with the results, particularly given that I write a lot of short stories.
I'll add a monthly videocast featuring  leading writers talking about a genre related topic.
2 of 3
Recent posts by Cat Rambo