Catharine LJ Parks
is creating short stories, and books
Select a membership level
Shattered Souls
Limited (10 of 10 remaining)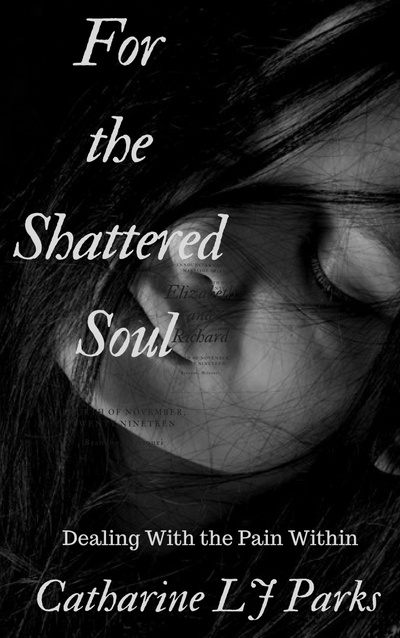 There is healing for shattered souls.  This book offers solutions to the human condition that plagues so much of humanity. For the Shattered Soul, offers hope, encouragement, revelation and sound advice to 'heal' the shattered soul.
This book shows ways to promote healing in all aspects of the mind, body and spirit, and leave you with peace, joy, love and freedom as you journey towards the light. 
Includes Discord benefits
About
Hi I'm Catharine LJ Parks and I live in Niagara Falls, Ontario about 5 minutes away from the Falls. I started writing poems in 2004 while living in Montreal. I started writing the book, Deliverance From Evil while living there and in 2005 I moved back to Windsor :There have been many pitfalls since starting this book. The majority of this book was written in a coffee shop.

Deliverance from Evil is a fictionalized account of a true story and based on a friend who was unknowingly demon possessed. The book entails her long journey to deliverance which finally did come after battle after battle to gain her freedom. It started in her home, continued on to the hospital, to a church and finally back in her home again. This book gives insight into the workings of our soul's enemy - Satan. This book will be released in the late fall of 2018.

During the writing of Deliverance from Evil which is written by myself and my sister we have suffered the loss of our mother's illness and death. During this time my sister suffered from the onset of PTSD and a profound memory loss. She wanted me to finish the book, but I told her we went through this together, and together we shall finish the book. Through faulty printers, two hip replacements, one emergency abdominal surgery and other setbacks we have weathered the storm to finish this book. It has been most challenging, but the Lord has been in this from the beginning and spite the enemy's attempts to sabotage it, it still goes forth. 

During the next few years I have published short stories which has been published in Fate Magazine, as well as a devotional and has appeared in the Mustard Seed Ministry Site.In 2015,  Heaven Sent Signs and Wonders stories based on supernatural events was published, as well as A Collection of Short Stories, and Eye Rings a personal account with the Vitreous Detachment disorder in 2016. For the Shattered Soul: Dealing with the Pain Within was published in July 2016.

I am currently working on Stepping Into the Light soon to be released. A book to help those overcome their fears and to step into the light. Stay tuned for the release date.

I also am involved in a Christian band called Joyful Hearts. We all write and sing our own songs and have recorded the first 10 songs of many to come.

So in between writing, rehearsing, recording and painting my dream is to get my writing out to the world to spread my message far and wide. 

I'm so excited you have found my Patreon page and are interested in joining my unique community of writing patrons.

As my Patron you will get early access to online chapters before the general public.

As the money comes in I will be able to devote more time to writing more stories and books. 
1 of 1
Become a patron to
Connect via private message