Cesar Torres
is creating novels and films
Select a membership level
Paperback Writer Tier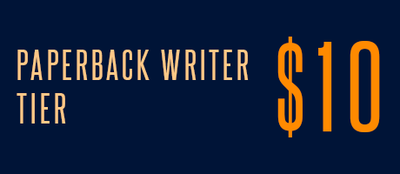 For $10 a month you get:
-A copy of my first novel 13 Secret Cities, delivered to your door!
-Weekly posts about Aztec mythology, archeological sites, myths, and other aspects of my book series
-Direct access to my creative process as I write my novels and create book covers, videos and even comic books from my universes.
-A monthly video just for Patreon Subscribers taking you on a journey with me as I go research the next book in my series. Trips will include academic libraries, archeological sites in Mexico, pyramids in Mexico City and Yucatan, and even the history of the foods of the Aztecs.
-An autographed photo print on the six month anniversary of your subscription.
-A t-shirt from my book series on the 1-year anniversary of your subscription
-Access to Advanced Reader Copies of my books. This means you get to check out parts of the books before they publish!
-A 10% discount on all merch for any of my book series.
Gimme That T-Shirt Tier
For $40 a month you get:
-A custom t-shirt that's designed only for Patreon subscribers. The design is mailed to your home every single month!
-An autographed photo print of one of the covers of my books
-A special shoutout on YouTube or Instagram
The Edgar Allan Poe Tier
For $50 a month you get:
-A short story inspired by YOU that will post to Patreon and will be included in my next published short story collection
-A 9 Lords of Night t-shirt
-Your name included in the list of sponsors and donors in the next book in my series.
About
I am the author of seven published sci-fi and fantasy books. My book series The Coil started in 2014 with 
13 Secret Cities,
a thriller that takes the world of social justice and pits it against a journey to the Aztec underworld, seen through the eyes of a young woman who must face the god and goddess of death.
9 Lords of Night, the new book in the Coil series, just published 
this year (thanks to subscribers like you). I also write 
How to Kill a Superhero,
a transgressive new book series of novels combining superheroes, dark fantasy and the erotic. I also make short films. My first was 
Beyond Built
, and I am currently developing a new documentary short to be released this fall.
As I expand my work as a filmmaker, I am looking to use better technology to bring you the best films. Currently I work with a Sony NEX-5T camera. My dfream is to upgrade to a Sony A7 III, in order to raise the production values of my films to new heights.
1 of 2
Become a patron to
Connect via private message
Recent posts by Cesar Torres