Cheyenne Jaz Wise Cosplay
is creating Cosplay and pin up content
Select a membership level
Cheyenne Gang
Get a patron-only perspective on my work!
My gratitude as a member of the Cheyenne Gang!
Access to patreon only updates and Behind the Scenes
Cheyenne Squad
A chance to be part of the creative process of my cosplay!
Access to polls to help me pick my next cosplay, progress pics, etc
plus all other rewards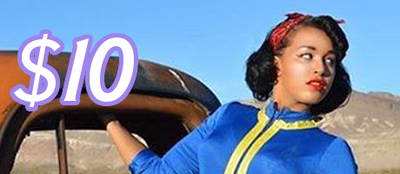 Cheyenne Mafia
Aka the sewing circle! 
Access to sewing tutorials, process streams, and Q & As
plus all other rewards!
About Cheyenne Jaz Wise Cosplay
Hey there gang!
However you've found yourself here, welcome to my Patreon page! I'm thrilled you're reading this and are thinking about being a part of my silly little corner of the interwebs!

A bit about me, I'm a cosplayer ladynerd who has a degree in Film Costuming from Columbia College Chicago. I'm a third generation seamstress who's been cosplaying seriously since 2013 when I graduated.  I'm probably most well known for my Lana Cosplay and all my Starfires, but I Cosplay a wide range of characters, from movies to cartoons to comics and anime! I also Volunteer my time and sewing work to Critical Care Comics, a Charity in my city that brings comics hand delivered by superheroes to Children in hospitals to help brighten their days.

Cosplay is my true passion, I love to sew and create more than basically anything else on the planet, and spend almost all my free time doing so. I have so many costumes I'd like to make and Ideas for projects I have, but I currently don't have the resources to create everything that's bouncing around in my head! Several of my friends on social media have shown interest in me doing new characters and getting more shots, so I figured this would be a good way for us to work together to create the nerdy content we want to see! This Patreon will go to fabrics and materials for my work, as well as being able to pay some of my amazingly talented photographer friends to do more expansive shoots/videos. If this is something you'd like to contribute to, I thank you with all my heart!

Empowered cosplay and shoot!

Emp is my favorite Comic Book CHaracter outside of Starfire, and I've always wanted to make her, but to get her costume to look the way I want I'd have to have it custom made out of Latex! If I reach this goal I'll get an Emp suit made and stage a nice elaborate shoot, hopefully involving some fun rope bondage stuff! ;)
-edited after getting an update on what pricing would be for the suit guys!

3 of 6
Recent posts by Cheyenne Jaz Wise Cosplay