Chinese Medicine Living
is creating awareness about living a healthy lifestyle in the modern world.
Select a membership level
ONE LOVE
What You Get if You Become a ONE LOVE Parton:
Knowing you are contributing to awesomeness
Our sincere appreciation
BIG LOVE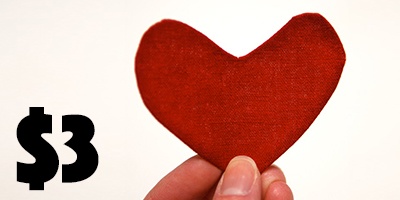 What You Get if You Become a BIG LOVE Parton:
$20 worth of coupons for downloadable info sheets from the Learn Chinese Medicine Living shop
Our love and affection
MONSTER LOVE
What You Get if You Become a MONSTER LOVE Parton:
$30 worth of coupons for downloadable info sheets from the Learn Chinese Medicine Living shop
Audio versions of new articles, so you can listen on the go
Our undying gratitude
About
WHAT IS CHINESE MEDICINE LIVING

Hi! My name is Emma Suttie. I am an acupuncturist/herbalist and I am deeply in love with the medicine I practice. 7 years ago, I started the 
Chinese Medicine Living
website so I would have a place to write about Chinese medicine for my patients. Little did I know that the site would grow into what it has become, with people visiting it from all over the planet. It has been humbling to see it grow, and so encouraging to see how many people are interested in the wisdom of this incredible medicine. 
WHAT IS PATREON?
Patreon is a way for fans to support the creators they love. It's actually a really old idea - of having patrons. If there are people out there creating things that you love, you can support their work by becoming their patron which you do by giving a certain amount per month so they can keep creating. It's an awesome idea, and there are thousands of creators out there creating greatness because of the people who love their work. 
WHY CHINESE MEDICINE LIVING IS ON PATREON
There are a lot of expenses that go into running a website and producing a newsletter, and writing and organizing it takes time. Chinese medicine is my passion, and I can't imagine doing anything else with my life. My goal is to devote myself to 
Chinese Medicine Living
full time, so it can be more awesome, and help more people. Eventually, if all goes well, my goal is to really kick it up a notch by expanding the site to include things like videos, a podcast and online courses. And, most importantly, I want you to be on this epic journey with me! 
CHINESE MEDICINE LIVING HAS REACHED A CROSSROADS

Until recently,
Chinese Medicine Living
was something I was creating in my spare time because I ran a busy clinic and was treating patients full time. I was doing it, because Chinese medicine is my passion. I eat, sleep and breathe it.  Another thing that most people don't know is that it is a one person operation. Over the years I have gathered a handful of amazing contributors to help out with writing articles for the site, and I am so thankful for them - but the rest, I do myself. I write the articles, I design and code the site and monthly newsletter, I try to keep up with posting to all the social media accounts, as well as all the backend and admin things - like answering the ever increasing number of emails I get from people from all over the planet - dealing with everything from health questions to inquiries about where to find an acupuncturist to where to go to school to learn Chinese medicine. I try to answer every one of them.
I want to devote myself to it full time so that it can reach more people and spread the word about this wonderful medicine, and I am really excited about the future and all the possibilities going forward. The problem now is that it is no longer sustainable, which is why I am here.
I am trying to find ways that I can fund the site, without compromising myself or the content
(like on site advertising), and I thought that Patreon would be a great way to do that. 
All of the information on the website and in every newsletter for the last 7 years has been completely free. For me, this has never been about money - but money is necessary to pay for practical things like servers, web development, security backups, email services and things everyone needs to run a successful website. There has never been any outside advertising on the site, and that has been deliberate, to keep the site free of frustrating ads and to keep the user experience a good one for my readers and subscribers.
THE BENEFITS

If you decide to become a patron, there are all kinds of surprises in store for you as well as some great benefits. In the past few months Chinese Medicine Living has launched 2 shops - one for regular people, and one for practitioners - with downloadable information sheets about health from a Chinese medicine perspective. Right now, the information sheets are grouped into a variety of categories (ailments, general health, Chinese medicine theory, the emotions, organs, etc...) and I am adding new ones every month, so it will keep growing and growing. If you become a patron, you will receive coupons for the shops, as well as some cool nerd swag that I will be designing and shipping out along the way - so join this exclusive community to see what awesomeness awaits you! 
So, if you like what Chinese Medicine Living has been doing and want to see it go even further, then join me, and Chinese Medicine Living becomes a collaborative effort between YOU and me. I can't wait to see what the future holds, and I hope you will be right there with me. :)
When I reach 1000 patrons, I will start a podcast where I will do one interview a month that patrons will have exclusive access to for a month before it is released to the public on the site. There are so many inspiring, creative, innovative, selfless, brave people in the world who are doing a lot of good - that I want to find them, talk to them, and see what makes them tick.
1 of 1
By becoming a patron, you'll instantly unlock access to 4 exclusive posts
By becoming a patron, you'll instantly unlock access to 4 exclusive posts
Recent posts by Chinese Medicine Living