Will Gardiner
is creating collages
Select a membership level
Maybe you're low on cash, maybe my art is scary, I don't know, but every dollar you can give is welcomed and appreciated.
Maybe you're not as low on cash, maybe you don't need any new art, but you still want to be a pal. I can get behind that. A $3 pledge gets you credit in my About Me section. I can use your real name or something you made up. Whatever you want.
sidehug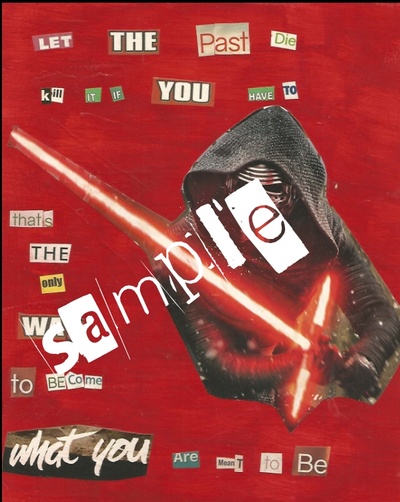 This is where you start getting things. The "sidehug" level gets you a monthly 4x6 print, chosen by me, sent to you as a postcard at the end of every month you pledge for! You also get credit in my About Me!
About
You can view all my work on my 
DeviantArt
.
Also, you may make non-purchase, non-subscription financial contributions 
HERE
.
For over a year now, I've been creating stunning, handmade collages as both a form of personal therapy and a way to reach out and connect with others. With all the heart I put into each piece and the amazing feedback I've received for every one of them, whether I made them for myself or as a gift, a desire grew in me to find a way to get my art out to a wider audience than my immediate circles.
My work covers personal struggle, growth, ambition, and some of my favorite nerdy properties. The prints and unique pieces I am offering to you are designed entirely by hand. Boards are painted, pictures and words are clipped and pasted. The only time anything digital touches my work is when I scan them in for duplication. You won't find pieces like mine anywhere.
With your support, not only will you receive amazing art to display in your home, put up at work, or gift to a loved one, you'll be helping me expand my artwork into other avenues, such as Etsy and trade shows. You'll also be an important part of helping a single dad spend more time creating beautiful things for the world to make ends meet when they extend past his paycheck, rather than having to spend his "off-duty" time Lyft driving.
BELOVED SUPPORTERS
Tory Short [sidehug]
Sam Varnerin [sidehug]
Jill W [sidehug]
Evelyn Varnerin [snuggle session]
Erin Mackey [snuggle session]
Kara Wofford [snuggle session]
Ariel Randolph [snuggle session]
Recent posts by Will Gardiner