Colossal Collectibles
is creating Videos and Podcasts about: Marvel & DC - Funko Pops - Comics
Select a membership level
Supporter 
Help us create more content for you. Your Colossal and we are eternally grateful.
Access to the patreon-only activity feed with exclusive-updates and behind the scenes content.
Shout out on our videos.
Shout out from our Twitter account!
Exclusive stories and inside scoops from the movies and comics. 
Super Supporter 
All the benefits of the previous reward plus:
 
Vote in polls and help decide what we cover next on the channel. YOU HELP GUIDE OUR CONTENT.
Bronze Level Supporter 
Limited (50 remaining)
All the benefits of the previous rewards plus:
 
We will send you a comic from our collection. It will come VF/NM. Back and boarded with protective cover. 
About


Welcome to the COLOSSAL COLLECTIBLES Patreon page!About Us

What started off as a personal hobby - collecting comics and Funko Pops, during the course of the past 3 years turned into a full time business supplying Funko Pop collectors and comic fans a constantly changing and unique range of collectables products for collectors. We also videos about The Marvel and DC Cinematic Universe, Comics, and Funko Pops and as you'd expect things get pretty nerdy. And we love that. We want to make tons of more nerdy videos for you to enjoy.
We're at an interesting crossroads right now...
We are at the beginning of our journey and we know what shows we would like to make, we have amazing videos and shows in our heads, ready to be produced, we will be doing more on The Marvel and DC Cinematic Universe, Comics, and Funko Pops. Be it DC, Funko, Marvel movies and TV shows, or anything else that the internet is in love with, we want to start not just covering it, but enhancing your enjoyment of ALL OF IT.
So that's where you come in! Patreon is a way for fans and viewers (such as yourself!) to contribute to our channel, and future projects on an ongoing basis, helping us achieve our goals and making Colossal Collectibles BIGGER AND BIGGER, and in exchange you get access to exclusive rewards. Pretty sweet relationship, right?
Where does the money go?

Every bit of money you pledged goes towards making more, better videos, Podcasts and more (e.g. paying editors, assistants, artists), upgrading equipment, traveling for interviews,Developing future projects, or whatever else we come up with. It also helps fund the rewards and interactions here, so we can keep YOU involved in the process!
You'll be able to help us reach certain milestones (be sure to check all those out over in the 'GOALS' section) so we can do things like make merchandise, release an extra video each week, give you early access, and so many more cool things. We have a BIG VISION of things to come, but this first set of goals gives you a good idea of the direction we're headed!
So what's in it for you?

As a patron, you can pledge any amount of your choice, and pick a tier of rewards to go with it. Choose from things like:
Access to exclusive articles and behind-the-scenes content
Vote in polls that help decide our content
Shout out from our Twitter account!
Free Collectibles (Funko Pops, Comics and more)
Free Merchandise (Hoodies, SnapBacks, Tees, Blue-ray DVD's, and More)
Shout out during the videos & podcasts.
For you collectors out there we will feature you and your collection the podcast and videos.
Convention and film tickets
An annual gold plaque to commemorate your patronage
And that's it! We're so incredibly grateful for your support, and we're excited to have you on board for so many more adventures.
Colossal Collectibles are going to be HUGE, will cover EVERYTHING YOU LOVE, and it'll all be thanks to YOU.
We are currently developing content for the channel and will be uploading videos from 25th February 2019.
Our first milestone goal here is to hit 300 patrons. When we hit 300 patrons we will be able to:
Produce merchandise
Release 3 videos a week
Get our videos translated
Upgrade Equipment
Podcast
Giveaways

This will enable us to give you more videos and raise the quality levels even further, reach a broader audience, and give you much more surprises and Giveaways!

We have a BIG ROADMAP of things to come, but this first set of goals gives you a good idea of the direction we're headed!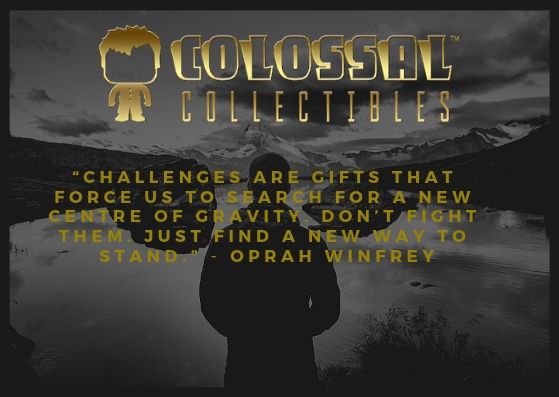 1 of 1
Become a patron to
Unlock 15 exclusive posts
Connect via private message
Recent posts by Colossal Collectibles