Colin Strohm
is creating art
Select a membership level
B-day Corruption Print
Half-size print of the Corruption of the Day from your last birthday. Image size roughly 6"x11", paper size 11"x17".
Corruption of Your Choice
Full-size print of the Corruption of the Day of your choice. Print size roughly 12"x22" plus border.
Large Aluminum CotD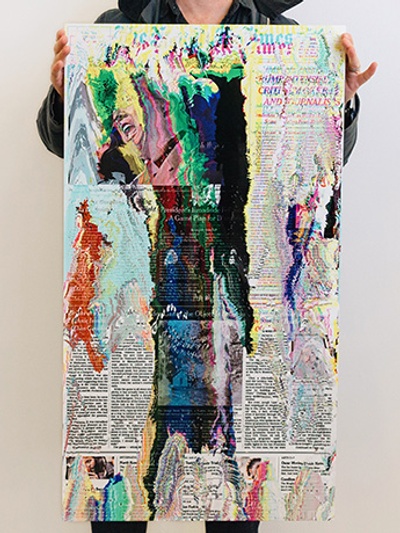 20"x36" CotD of your choice printed on glossy aluminum. S'nice. Shiny.  Could almost make you forget the world is on fire. But, nah.
About
Since shortly after the election in 2016, I have been trying to express my anger, frustration, and confusion over honesty and corruption in the media and the White House. While I still believe The New York Times is the paper of record, they are editorially forced to report perversions and half-truths (not that absolves them of bias or responsibility, though.) To express this visually, I started making a Corruption of the Day by scanning and remixing the front page of the Times. Initially, these distortions were made by moving around the paper during scanning. Later, I developed an automated version with Rob Seward of 
Electric Objects
(RIP) for their platform. While working on that automation, I started writing my own scripts. Recently the titles have become important elements, too, by cutting and mixing various words and phrases from the days headlines, I end up with horrifying yet maybe truer lines like, "Erratic Leader-Upends Global-Order Built by-GRAFT"
I make these every day and post them on 
Twitter
and 
Instagram
. When this is over, I'll compile them into a book. By joining this Patreon campaign, you can gain exclusive access to prints and custom variations. There will be one unique book made with the original front page opposite a print of the day's corruption.
Although the current administration will someday end, the corruption will continue. So this project may be never-ending, as is the quest for truth and what's fit to print.
Recent posts by Colin Strohm