Craving Cinematics
is creating YouTube videos for all movie lovers.
By becoming a patron of Craving Cinematics you'll be an active participant in their creative process.
Select a membership level
Copper Reel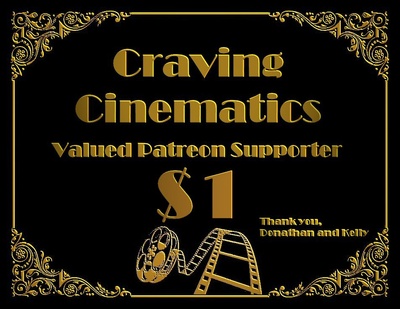 Copper Reel is the first level of support.  
Everyone who pledges $1.00 will receive, by email, the wallpaper and lock screen Craving Cinematics theme for smart phones.
Here at Craving Cinematics, we are continuously looking to improve both the quality and quantity of our content.  So far, we have been somewhat successful in this task; however, it is becoming more and more difficult due to time and money.  Up until now, Kelly and I have used our own resources to buy and upgrade our equipment (cameras, audio, lighting) to bring a higher level of content.  We are also traveling more and joining additional services to gain access to movies most viewers in the U.S. don't know about.  Our goal is bring in additional funds to help reduce the financial stress brought on by the greater demand for a higher quality picture and sound.  We ask for your help; however, there is no obbligation to do so.  We want everyone to enjoy movies as we do and if you decide to help, thank you from the bottom of our hearts.
1 of 1