Dave Hill
is creating Dave Hill's Podcasting Incident + more!
Select a membership level
Ridiculously Attractive Person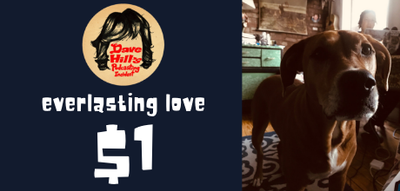 Massive thanks, everlasting love, and Dave will visit you in prison should your life ever happen to take a dark turn. But mostly those first two things.
Dangerous Snake Who Hates Bullsh*t
Access to exclusively exclusive extra content like exclusive behind-the-scenes podcast episodes and complete/unedited & ad-free episodes of Dave Hill's Podcasting Incident and Dave Hill: History Fluffer! You will gain access to these episodes on Patreon before anyone else, so you can properly taunt your enemies with spoilers.
You will also gain entry into your local chapter of Dave's street gang, the Dangerous Snakes Who Hate Bullsh*t, including your gang nickname. Sorry, but you asked for it. Dave will also thank you by name on the podcast and get highly emotional while doing it.
Lord of the Underworld and Other Stuff
Same as $5 PLUS a Dave Hill's Podcasting Incident sew-on patch so you can let folks know what's what as you rove the streets and/or your local mall. Also, Dave will call you and sing the Billy Joel song of his choice when you least expect it. This might happen more than once depending on Dave's mood. Oh, and you will be a lord of the underworld, too, which is awesome.

You will also gain access to exclusive live video streams of every live taping of Dave Hill: History Fluffer that occurs at QED! This is an incredible benefit that will likely cause your boss to fire you out of jealousy.

If you select this tier please add your phone number as a note at checkout!
About
Hello, this is your man Dave Hill writing to ask you to support my newly relaunched Dave Hill's Podcasting Incident as well as the recently launched Dave Hill: History Fluffer podcast, which is incredible.

Anyway, I have decided to start this Patreon page as a means to keep gas in the Dave Hill's Podcasting Incident/History Fluffer tank so my partner in crime Chris Gersbeck and I keep bringing you the best stuff for your ears possible and hopefully, over time, grow this podcast into a forty-armed beast or something. I don't know why the best has to have forty arms. It seemed weird to me too but I'm sticking with it.

In addition to Dave Hill's Podcasting Incident and History Fluffer, we have some other great ideas, both podcasting and podcasting-adjacent, that we are up over here at HQ. I hope you will join me in all of this like a mofo and support in whatever way you can, even if it's just by screaming my name from a mountaintop in the dead of night in some remote village that isn't even on any maps, the back of napkins, or anything. That would actually be pretty cool. Any support you can offer would be amazing. And you'll get some cool stuff for it, too. I promise! And YES you will get everything offered at the various tier levels, even the ridiculous stuff. In fact, especially the ridiculous stuff.

Love, light, and a third really cool thing to be revealed at a later date,
Dave Hill
Become a patron to
Unlock 91 exclusive posts
Connect via private message
Recent posts by Dave Hill