David Lincoln
is creating News and Commentary
Select a membership level
Retail Trader
These people help keep us going and help us stay on the air. Thank you for taking the time to go through the process of supporting the channel. You did a good thing today and are now part of an elite team.
Market Insider
Limited (12 remaining)
This level means you are a crucial link in supporting independent media. Your money is hard earned and thank you very much for considering this channel worthwhile to support
Broker Dealer/Market Maker
Limited (24 remaining)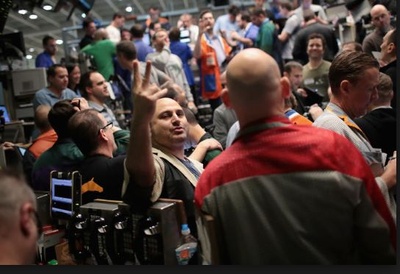 For some this level would not be a big deal but for this channel, people supporting at this level make a huge difference. Having someone pledge at this level helps this channel out incredibly. Could be the best $25 you ever spent.  Each $25 pledge translates to real upgrades in this channel's ability to create next level content.   
About
*NOTICE*
Many have expressed a desire to help with my channel and be a part of it. Here is a way to do so. Do not feel any way obligated to give however. I know a lot of people have taken some serious heat in the recent market down move and I in no way want to add to the financial pressure here. If you do want to support the channel, however you can do so by signing up to give 5 bucks a month and that will really help. 


Thank you for supporting my Youtube channel. Just like in days of old people who create art today depend on patrons to help support them so they can focus on creating. I want to thank everyone who has supported me whether it has been financially or otherwise throughout the years. I want to thank my family for always sticking by me and my closest friends who believe in my no matter what is going on. I want to thank all those who have commented on my videos or given me feedback in Stocktwits or Twitter.  
    Thank you for those who have agreed to be interviewed by me. You know who you are and I know that you have taken a chance on me as an unproven voice in the financial world. It has been a great journey so far. Having patrons via Patreon will really help me to become an independent voice and to devote more hours of each day to creating content and less to side jobs and busy work. 
    I feel that I am just getting started with this project and it will be fun to have you along with me for the ride. I can grow in leaps and bounds and you can be part of it by giving a buck or 5 per month.
  



I am asking people to give $5 a month if you enjoy my content. Any money received will go into making the show better. I am saving up to purchase the necessary things to have interviews face to face in a studio as well as that which I need to go to my guest to conduct an interview in their offices. This all costs money and this show is still to small to receive anything significant from youtube advertising. Support independent media. I pledge to continue to bring you the smartest financial minds to help you elevate your own thinking int he trading world I spend countless hours a week working on show content and networking to bring in the best of the best in the financial industry. This show is just starting out and needs a lot of help just to assemble the proper equipment as far as cameras, audio, lighting, set design, etc. I am not looking to make any money from my efforts here. I just hope to be able to continue to bring you a better and better show and expand my audience. I have side jobs and I also trade options to bring in income but am very much focused on making this show a success. 
      I currently work with a graphic artist who I pay out of my own pocket. I would love to be able to hire an intern to help produce the live show and run graphics live. I would love to be able to upgrade some equipment. 
. I started this project of interviewing people in the trading world last year and it occupies a large portion of my time in day to day life. Most interviews up until now have been conducted over webcam. The format has also been moving to a live format. This allows real time audience engagement in a chat room. I believe there is value in interviewing some of the great minds of the trading world. I would love to upgrade my equipment so that I can conduct interviews face to face by either having people come to me or by going to them. 
   Producing content requires money. To provide superior sound and video and to light a room takes expensive cameras, lights, preamps, microphones, and other kit. The format of the show has been evolving from a 3 video source taped exchange to a live exchange. Having people support the show financially is a key step in bringing it to a larger audience. 
    I have dreams about bringing my interview show to television starting with local public access and moving forward from there. I need to upgrade my video and audio as well as book studio time and I would love to bring on someone to help with the show to help engineer things. 
    The traders and other finance professionals who I bring on are inspirational figures. As a trader an investment in shows like mine is really an investment in yourself as educating yourself as a trader in a proven way to make more money in the future. If you can give 5 bucks  a month it would really help to build the show up and make it into something great. You tube advertising is basically a non factor right now as the show is so small that it receives practically nothing. 
   Thank you for being part of my dream of bringing a quality financial show to the public both in the United States and around the world. 

Once I get 100 Patron's I will release a weekly newsletter for all patreons plus do an exclusive livestream just for members where I answer questions.
1 of 2
By becoming a patron, you'll instantly unlock access to 16 exclusive posts
By becoming a patron, you'll instantly unlock access to 16 exclusive posts
Recent posts by David Lincoln