EarthSalamander #42
is creating new patreon page in description omegalul
Select a membership level
In-Game Statue
 You will be able to choose an avatar (any of the game's models can be used) to represent you in the game, with your name on it.  Every match will have a limited number of avatars present, in random (unobtrusive) spots in the map. If there are more Patrons than spots available, then random Patrons' avatars will be present in each match. 
Includes Discord benefits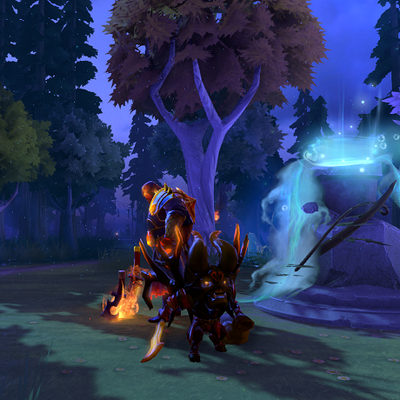 In-Game Companion
You can now choose a companion to follow you anywhere you go! (You can also suggest a new companion to be added to the list. 3 slots remaining for new companions!) * Plus all previous rewards 
Includes Discord benefits
Rework a hero
You can now choose to rework an imbafied hero or Imbafy 1-2 abilities on a lazy hero! (The hero you're choosing has to be an IMBA hero wich has been created more than 6 months ago. We will talk about it for balancing purposes)
* Plus all previous rewards
Includes Discord benefits
About EarthSalamander #42
THIS PATREON PAGE IS DISCONTINUED, PLEASE USE THE NEW ONE: 
https://www.patreon.com/bePatron?u=2533325
Hello, DOTA players! :)
If you are here, you probably already know about Dota IMBA - a recreation of the Warcraft 3 map by Mimiya. But if you don't - IMBA is just like regular Dota, except...
Crazier
. Everything is overpowered. Items are insane. Heroes have stupidly powerful abilities. You gain tons and tons of experience and gold. Roshan is a Raid Boss. Towers will hit you with
all sorts of random crap
.
And yet... The game is playable. It is not a hot mess of one-shots (well, at least I'd like to think it's not!). You can pick a hero, and be sure that it will be just as brutally overpowered as every other hero in the match (or, at least, that's the objective!)
- Adding Battle Pass for everyone! Featuring cosmetics*² to unlock for the mod! (advantages won't be pay-to-win related)
e.g: custom blink, eul, teleport effects, and much more.

*² cosmetics are shown in the mod only, not in regular Dota 2 games.
1 of 1
Recent posts by EarthSalamander #42
By becoming a patron, you'll instantly unlock access to 2 exclusive posts
By becoming a patron, you'll instantly unlock access to 2 exclusive posts