DM Dave
is creating all things Fifth Edition.
Select a membership level
Trinket Club
This tier gets you unlimited access to the following benefits:
Adventure Modules. All adventure modules (with a few exceptions) are released for free or through the trinket club tier. This includes all old ones and new ones.
Discord Access. You get to join the Discord as a Trinket Club member! There, you can meet the rest of DMDave's Patrons and find a game to play online!
Vote in the Polls. I do a bunch of polls looking for suggestions. You'll get in on all of those.
Includes Discord benefits
Copper Club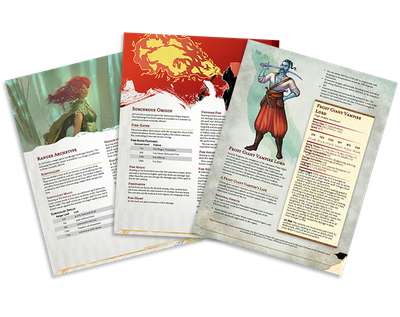 Copper Club members get the following benefits:
All previous benefits.
Daily PDFs.  The majority of the Patreon Exclusive PDFs you will receive (excluding Silver+, Premium Collections, and BroadSword). Mostly this means daily monsters!
Ability to vote in all surveys.
Discord Channel Access. You can join our Discord channel and speak directly to DMDave. 
Requests. Once per month, I ask for requests. The rules for requests are detailed when they are called for.
Includes Discord benefits
Silver Club
 Silver Club members get the following benefits:

All previous benefits.
Premium PDF Collections. Once per month, I'll sew up all of the PDFs into a Premium PDF for easier downloading in both a separate zip file and a single PDF.
Silver+ content. Some of the content created is for members of Silver-tier only.
Includes Discord benefits
About
Join now and get more than 220 PDFs
Here's what else patrons get:
FIFTH EDITION ADVENTURES
Need more adventures?
I'm a writing machine. I produce over 150 pages of original Fifth Edition content each month. For the most part, the content is adventures set in the world of Omeria. However, you play them as one-shots or just take what you like from the content. 
The adventures are available at all levels, starting at the $1 Trinket pass. Additional content and supplements are offered at additional tiers.
ONLINE GAMES
Looking for a regular gaming group? 
DMDave's private Discord channel has literally hundreds of Fifth Edition players that are running, creating, and playing in Fifth Edition games (as well as other RPG systems). 
AVAILABLE AT ALL LEVELS
Access to DMDave's Discord is available at all levels, starting at $1 Trinket pass. 
PRO ADVENTURE PATHS
The Omerian Throne campaign series is an ongoing campaign set in the world of Omeria. It starts with The Hand of the Eight and grows by (on average) two chapters per week. Each chapter is 10-33 pages long.
Parts 1 through 8 are already out!
AVAILABLE AT ALL LEVELS
The best part about the adventure series is that it's available at all levels. You spend $1 per month and you get 150 pages worth of content every month.
Physical Books
BroadSword Monthly
is a physical book with 150+ pages of DMDave adventures and goodies.
Subscribers of the Electrum tier and up get the
PDF copy
of BroadSword magazine. And subscribers of the Gold Tier and up get the actual
physical copy
.
Plus, starting in the summer, Platinum subscribers will get the BroadSword Compendiums as well as BroadSword Merchandise coming soon. Until then, Platinum subscribers can also receive two books per month.
POLLS, SWAG, AND MORE
All Patrons get to participate in all the major polls which influence the content that I create here on the site and on DMDave.com. 
ALSO, Platinum Members get their own adventures created by prompts each month so THEY write the adventures.
===
This page and its content follow the guidelines for the Open License Agreement. You can read more about the 
OGL by clicking here.
Full-Time DMDave
Once my Patreon account hits 1,111 patrons, I'll be able to do this full time. That means more content, more love, more Dave!

10 of 10
Become a patron to
Unlock 578 exclusive posts
Connect via private message