Dolph Amick
is creating fantastic, widely varied music and video
Select a membership level
Don't Quit Your Day Job
Obviously this guy needs guitar lessons. Sure, I'll give you a tip... plant your crops early this year. With a voice like that, you ought to be on a stage... there's one leaving at 4:00.

Patrons on this tier will get a heartfelt "thank you!", spoken OUT LOUD in my office as I look at my computer.
Solid Tipper
A monthly video update on current projects (may contain brief but music-related rants about ongoing work), plus the lower tiers.

...Yes, you also get an OUT LOUD "thank you!"... perhaps even a louder one.

Salt of the Earth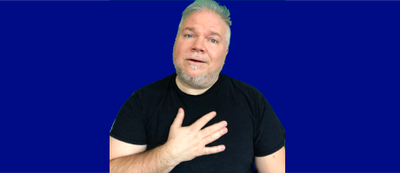 A digital download of some kind of musical tidbit that I'm working on... could be a preview of a tune, an unreleased demo, a remix, or an alternate version of a song. There's always something cooking... includes all lower tiers.
About
I've been composing, performing, and recording music for bands, theatre, film, commercials, and even professional wrestling for over thirty years. From bluegrass to metal to hip hop to classical, I'm constantly brimming over with musical ideas huge and tiny, tasteful and twisted, and I relish the thought of inviting you to experience it with me. I write for puppet shows, musicals, Renaissance festivals, plays, short films... no project is beyond the pale.

I play various musical characters: Wicked Pete Speakeasy of Three Quarter Ale, the Raisin King, guitarist dolly of burndollies, and the ever-popular and rarely appropriate Pussy Akins. I've written and performed several scores for the Center for Puppetry Arts in Atlanta, including for the shows Pete the Cat, Click Clack Moo: Cows That Type, Stellaluna, Harold and the Purple Crayon, and the award-winning Mother Goose and Old MacDonald's Farm. I was the house composer for the first seasons of Platinum Championship Wrestling, and a resident artist for Theater at Lime Kiln in Lexington, Virginia.

I write and record music for diverse stage acts like Three Quarter Ale (madrigals and Renaissance folk rock), The Raisin King (puppet videos of daily affirmations for kids), Pussy Akins (country hip hop), Dark Galaxy (EDM), burndollies (electric J-Pop), and The Playgue Doktors (just plain nutty doom pop... which makes it sound like a frozen dessert, but it's not).

I'm an experienced professional with a lot of tips and tricks to share, but I'm also an idealistic artist who is always excited about creating something new and previously unheard by mortal ears. I love to collaborate with people, and as a frequent solo artist I crave your involvement. Be a part of the process with me, and we can create something new and unique with your personal stamp on it!
By becoming a patron, you'll instantly unlock access to 1 exclusive post
By becoming a patron, you'll instantly unlock access to 1 exclusive post
Recent posts by Dolph Amick