Douglas Wolk
is creating discussions about comics
Select a membership level
R.F.O. (Regular Forum Offering)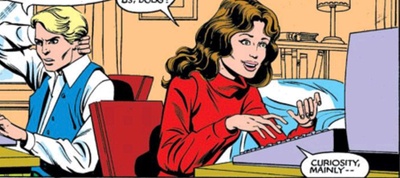 Membership in the private discussion board!
K.O.F. (Keeper of the Fruit)
Membership in the message board, with one of the Golden Apples of Idunn displayed next to your username when you post! Immortality is yours!
P.M.M. (Personalized Marvel Menu)
Limited (13 of 20 remaining)
Membership in the discussion board, plus after every six consecutive months you subscribe at this level, I'll put together a personalized reading list for you, for whatever character or concept or creator you'd like!
About
Reading and reacting to shared-universe superhero comic books is a uniquely satisfying experience; trying to find a path into that magnificent mountain of stories can also be uniquely intimidating. I'm building an inclusive, curious, enthusiastic community of newcomers and long-timers who want to explore and discuss Marvel's comics. 

I'm Douglas Wolk, an Eisner- and Harvey Award-winning comics critic and journalist. I'm the author of Reading Comics: How Graphic Novels Work and What They Mean; I've also written about comics and their creators for the New York Times Book Review, Rolling Stone, Vanity Fair, the Washington Post, The Believer and a bunch of other places. For the past few years, I've been working on All of the Marvels, a book about reading all 27,000 Marvel superhero comics. (Yes, I read them all.) But comics are a social medium, and I love discussing them with other readers, like you.

When you become one of my patrons, you get access to a private message board with a supportive, friendly vibe. Every day, we discuss a single issue of one of Marvel's comic books (always something available on Marvel Unlimited, and announced a week or more in advance). The daily picks include one-offs and long arcs, old and recent issues, classics and deep cuts, but always stories that I think the community will enjoy talking about--and this is a community that explicitly welcomes everyone, especially newbies. Everyone who pledges to this Patreon gets to be part of those conversations. (You can chime in as much or as little as you want, of course!)

I tend to think about these comics in terms of storytelling craft and big-picture themes (and sometimes continuity nerdery), and I really enjoy answering questions about them. But I especially value readings of them from perspectives very different from my own--do you have thoughts about costume design in Young Avengers, about trans and queer subtext in All-New Doop, about the color palette in Tomb of Dracula, about disability politics in Daredevil, about how Pakistani-American culture is represented in Ms. Marvel? Bring them on! This is a place where we all get to understand these stories in new ways. Conversely, if your idea of fun comics discussion is complaining about how they're just not like they used to be or sometimes have political content, you will probably have a better time somewhere else.

Once All of the Marvels is (mostly) out of my hands, I'll be starting a weekly podcast about a particular cross-section of Marvel's comics; the plan is for it to be a conversation with a different guest every week. (If you're wondering what it'll be about, I'll say that it does not focus on a specific creator, series or era, but does have a very clear narrative thread--and I've already got two years' worth of episodes roughly planned out.) Podcasts take a bit of money to do right, though, so this Patreon will make it possible to make it better for listeners--and, once it's up and running, there will be special bonuses for patrons.
By becoming a patron, you'll instantly unlock access to 95 exclusive posts
By becoming a patron, you'll instantly unlock access to 95 exclusive posts
Recent posts by Douglas Wolk