Doug Penikas
is creating Feature Films
Select a membership level
Pledge $1 or more
You will get exclusive 3-5 min Behind The Scenes featurettes of our progress in creating each film, starting with Back To 1. Think of this like the behind the scenes featurettes of a Dvd. Only instead of waiting for the dvd to be released, you get each featurette as we're making the full feature. 
About
My name is Doug Penikas and I'm a filmmaker/dancer/actor that has worked in the entertainment industry for the past 12 years. Movies are my passion, and I now have my own production company, More Brandy Productions (MBP) to create commercial narrative feature films.  Right now MBP makes commercial narrative feature films on low budgets while reaching the cinematic standard set by Hollywood. This is no easy task but it is doable. Many people thought our first feature,
Blood Type: Unknown
was made for a budget of $1 million. I WISH! It wasn't even close to a quarter of that, but its still an exciting feeling knowing people thought that.
Why Patreon?
 Now we are currently in development on our second feature film, an original dance/musical/drama
Back To 1
.  Back To 1 will feature original songs created solely for the movie, exciting new dance sequences of varying styles, and a powerful emotional story that shines a spotlight on the life of a performer's emotional struggle during physical rehabilitation and her journey to closure.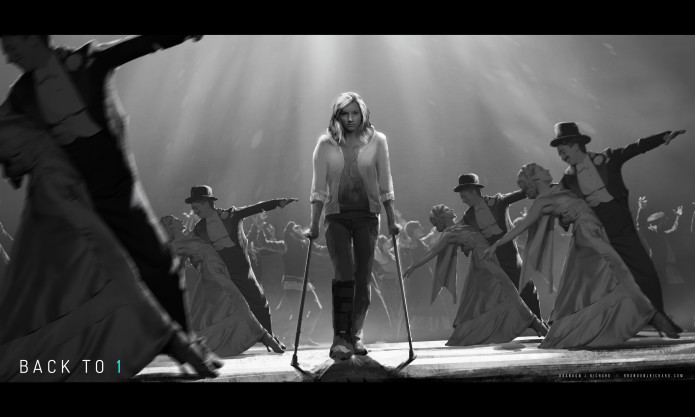 (Back To 1 Keyframe Art by Brandon Richard)
One of our recent supporters mentioned Patreon, and I thought -- let's give it a shot. We hope to build our audience not just for Back To 1, but for future films as well.
Challenges we've encountered with Back To 1: We did 1 crowdfunding campaign on Indiegogo in 2016 and didn't meet our goal due to lack of cast and crowd reach. 
We did a second Back To 1 crowdfunding campaign on Indiegogo that ended August 3rd, 2018. 
Back To 1 Indiegogo Campaign
. We raised much more than the first campaign and are now heavily involved in the original music creation.
Why should I become a Patron? 
We want to use this page as a way to bring Patrons behind the scenes as we make full feature films, starting with Back To 1. Patrons will get the knowledge of our struggles and successes through our Behind The Scenes Featurettes. Much like the ones you would see on a DVD only you'd get them as we're making the movie. 
I love the attached cast, I love getting to work with the amazing crew involved, and above all -- the story!  
If you want to join me in this movie making adventure you can sign up for the tier. If this works we won't do this just for Back To 1, but for future feature films as well.
Thank you so much for checking out this page and welcome to More Brandy Productions Patrons!
More Brandy Productions gets updated sound equipment for better interviews.
1 of 1
Become a patron to
Connect via private message