Dr. Anais
is creating "Les 31 jours de français"
Select a membership level
31 jours de français !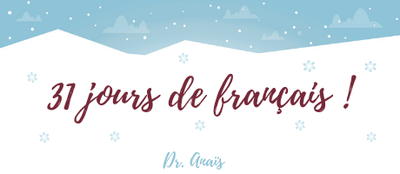 One letter a day "en français" for the last 31 days of December!
To celebrate the Holidays, which French people love, I offer a daily letter with cultural and linguistic fact about French and the French culture! This offer also includes two videos!
About
(Some home-made French subtitles are available below the video)




Les 31 jours de français 

* The 31 days of French are now over! I will be back in December 2019 for the next session*
Please feel free to update your pledge or to delete it.
I will not be posting more content for now, or without giving my patreons a heads up.


If you are learning French and you are interested in the French culture, you are going to love
Les 31 jours de français!
Starting December 1st all the way until December 31st, Dr. Anaïs will be sharing
one festive (digital) letter a day
on this plateform. The letters will be
en français
 and will talk about the French culture and language. They will take you on a journey through the French holidays and Christmas times, and land on the very last day of the year to get you ready for a very French new year.
Last year's
31 jours de français
 were a success and allowed French students to better their skills while enjoying a daily dose of fun facts, strange words and typical French games (to have a peek,  download a few letters for free, 
click here
!)
The letters are ideal for intermediate and advanced levels of French learners, but they can also be very valuable to beginners, as they offer an immersion into the French language.
In exchange for my passionate work, I ask for
a small contribution
(1$ per letter).
I have chosen to use Patreon.com as it gives me a lot of freedom and it allows you to support my work according to your own will and financial situation. By signing up, you support my business and helps it grow, for which I am so thankful!!!
If you are interested in les 31 jours de français, click now on "BECOME A PATRON" (top right of this page)
* Note that you are allowed to set a maximum for your pledge. For example, if you only want to/can spend $10 for the month, you can set up a maximum of $10. After receiving ten letters, you will no longer receive them and you will not be charged further.
If you do not know yet if you would like to become a patron, no worries!
The first letter is free and accessible here! 
I am Anaïs B., or Dr. Anaïs, a French Doctor in Comparative Literature who is passionate about teaching her language and sharing her culture. 
I have been teaching French (in France and in the United States of America) for seven years, and I have been specializing in online teaching for two years. 
You can find me online and check my work! 
My website : 
Dr Anais.com
Instagram : 
@docteureanais
Facebook : 
@dr.anais 

MERCI !!!
A big MERCI for all your support, which helps me to continue doing high quality work for my students from all around the world! I am truly grateful for your kindness and your feedback. :-) 
Special thanks to 
AvidVisuals
for his amazing work on the designs.


Merci beaucoup !
Thank you all so much for trying Les 31 jours de français!
I promise I am doing my best for you!
This amount would be amazing to reach, because it would bring me a little money for the long hours I spend making the letters.
1 of 1
By becoming a patron, you'll instantly unlock access to 70 exclusive posts
By becoming a patron, you'll instantly unlock access to 70 exclusive posts
Recent posts by Dr. Anais