Kohaku
is creating Awesome Comics, Art, and Colouring Pages
Select a membership level
Black Kitten
You are an adorable black kitten! Thank you!
Get access to my feed as well as polls about upcoming content!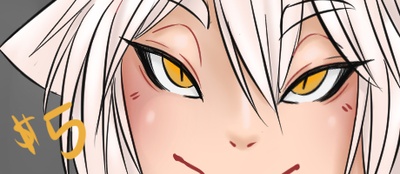 Norwegian Forest
Your a sweet norweigan forest kitty! Thank you!
Lower Tier rewards+
Get high-rez downloads of both Youtube speedpaint, Instagram watercolours, and Patreon exclusive illustrations
Seal Mitted Ragdoll
You are an amazing Seal Mitted Ragdoll! Thank you!
Lower Tier Rewards +
Exclusive Patreon videos, including speedpaints, tutorials,
.psd and .clip files,
About Kohaku
SWEET A VISITOR
Hey-yo! This is Kohaku, creator of Elektron graphics!

I'm an artist, designer, informal comic creator, crazy cat chick, graphic design student, and lover of all things weird!
What I aspire to be is a full time artist and illustrator, always looking for something cool and invigorating in art. And I think Patreon is an awesome way to help me realize that dream, since not only will I be able to work on more illustrations and videos, but those who wish to support me will be able to get some cool content as I progress! It's like a win-win situation~
My main focus in my Patreon account is illustrations, time-lapsed videos of my illustrations, and even art tutorials!
If you want to support me and get cool stuff, feel free to subscribe to any of my reward tiers. 
-OR-  
If you only want to donate once without a subscription, I have a Ko-fi account so you can do just that~
KO-FI

Anyway, thank you so much for stopping by, it means a heck of a lot!
Stay awesome~
Aim for the stars! Help me save for new art and recording equipment!
1 of 1