Eric Allen
is creating covers and original music
Select a membership level
Supporter
$1
per fully-produced video
For the passive listeners, the $1 tier gets you:
High-quality downloadable tracks for your listening pleasure
Access to the awesome community discussion feeds
Direct communication to yours truly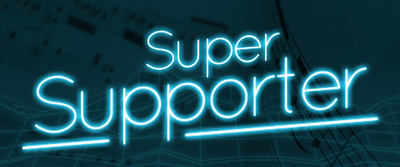 Super Supporter
$3
per fully-produced video
For those starting to tap their foot, the $3 tier gets you:
All previous tier benefits (MP3s, community membership)
Access to behind-the-scenes and insider bonus content
 Ability to watch extended editions of some tracks and videos 
Fully mixed and mastered album/collection downloads
Mega Supporter
$5
per fully-produced video
 For those starting to bob their heads, the $5 tier gets you:
All previous tier benefits (MP3s, community membership, insider bonus content, digital albums) 
Multi-track downloads, for listening to every individual part of your favorite songs
Scores and sheet music PDF downloadables
$0
per fully-produced video
About Eric Allen
Hello there!

Welcome to the Patreon community page for Eric Allen! If you've wandered here, or know my work and are considering supporting me, then first of all, let me start off by saying...

Thank you!

The idea that anyone would want to give their hard-earned money to support the arts is an overwhelmingly fantastic thought - and you're here to possibly contribute to mine? That alone is wild to me, and I appreciate it.

So, who are you?

You can call me Eric, a college educated musician and freelance composer and sound designer for video games. I fell in love with music very young and started playing saxophone around age ten. For the record, I fell in love with gaming way before that! Since then, I've grown as a musician and a gamer, and now, alongside my freelancing and day-job, I create covers of movie, television, and video game music. Occasionally, I post original works too. My style can fluctuate from ambient to EDM, and I like to explore and stretch my performing muscles constantly.

Why do you use Patreon?

Well, my freelance work, while it can pay well, is infrequent and unsteady. I'm an unknown newcomer to the scene and my network is still small considering I only just graduated from college halfway through 2018. That being said, my day job, while consistent, is just enough to pay for my student loans and my basic necessities. Having support on Patreon allows me to take time away from "work" and pursue something more fulfilling and fun. This, which is currently only a side project, a passion, is a way to reign myself back into my love for music. In a turbulent field, such as this, it's easy to get wrapped up in meetings and technicality and lose yourself. This project allows me to stay connected, and Patreon allows me to work on this wonderful project.

It's also important to note that everything I use to produce these videos is something I either already had (camera, lights, etc.) or something I already had to buy for my freelancing (software, keyboards, etc.) and with little to no extra income, I can't improve the production of this project without the assistance of awesome people that would like to support it. In order to make better products, better mixes, more creative and higher quality videos, setting up a direct creator-to-community stream is essential. Not only does it mean we can cut out more middlemen, it also means I can learn exactly what you like more or less by interacting directly with you. Along that same note, it means I can personally deliver personalized material, like high quality MP3s and physical media to you.

Wait, there's something in this for me, too?

Well... yeah, absolutely! If it wasn't enough to know and feel the accomplishment of making a dream come true, you get stuff for it! First of all, you get my eternal gratitude - oh no, wait, you meant like actual stuff? Becoming a Patreon will give you a direct stream of communication to me to address your concerns, comments or to simply talk. I have a very particular workflow and I feel an odd disconnect to streaming or digital conference calls with big communities, so, why not just let you talk to me whenever you want? I like the tangible rewards for pledging and donating. Let's say, you want to listen to your favorite tracks on a run or a long drive to work, by pledging you'll get exclusive downloadable high-quality recordings of everything. By the way, you can get exclusive looks into that very workflow I just mentioned, with looks into my upcoming tracks, mixes, research and more. If you haven't noticed, I want to be as transparent and real as possible. After a certain tier, you can contribute to even helping me decide what kinds of tracks I should make next! If you're a musician as well, upon request I can even give you sheet music to reference and use however you'd like. You could donate enough to see your name in the description or even in the credits of the videos I post. It would be crazy to think about, but granted that this community grows enough I can support doing this, I would love to send physical albums to you as well! There's so many ways I want to pay you back, so let's get started, shall we?

How frequently do I have to donate, though?

Good question! But the answer isn't as good - truth is, you can donate as much or as little as you want. You decide the amount to the cent. You can start and stop donating whenever you want. To keep it simple, I only ask that Patreon pledges get made upon the release of every fully produced video. If I put out bonus content for patrons, then it remains just that; a bonus! I will never abuse the power and create one hundred low quality videos, cash out and move across the globe, never to be heard from again. I want to make media that I'm proud of and enjoy it with others. And, even if something comes up and I'm not consistently making videos, I'll still be talking to you, but you won't be getting charged. If I just couldn't put out as much as last month or the month prior, your donation doesn't become less valuable. Also, if I have a side product that I was doing for something else, it gets posted out of nowhere, and it doesn't fit with what the community is necessarily looking for, then it won't be something you need to donate for.

If you have any more questions, reach out and ask! Bottom line, if you're a fan - Patreon supporter or not - I appreciate you taking time to be a fan of me and my work. And once again... thank you.

$0 of $100
per fully-produced video
Hitting Record:

With this amazing amount of support, I'll re-evaluate my release and production schedule and start putting more time in - which means more content for you!

1 of 3
Recent posts by Eric Allen