Dr. Professor
is creating the Explorers Guild world and expedition experiences
Select a membership level
Captain's Report
Every time troupe 001 heads out on an expedition, you'll be sent a postcard with an image and the captain's report from the trip. This will happen about once a month.
Expedition Field Guide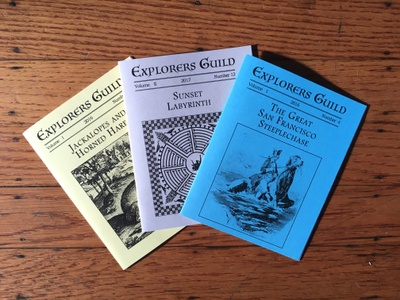 Every time troupe 001 creates an expedition field guide, you'll have one numbered and sent to you.  This will happen about once a month.
Merit Badge
Every time a new merit badge is made you'll get the field guide sent to you. After completing the requirements, you'll be sent your merit badge, perfect for your bag, jacket or explorer shirt! These will be done about every other month.
About
Hello and thank you for visiting the Explorers Guild Patreon page. I'm known as Dr. Professor and am the first captain of the Explorers Guild, specifically for Troupe 001.
Since 2015, the Explorers Guild has been engaged in designing and guiding a set of traditions that combines the best parts of scouting, play, and alternate reality games to build an open community around curiosity and exploration. This is typically done via handheld field guides, supplementary materials, artifacts and with the occasional aid of guest designers. Over the last three years we've climbed remote peaks such as Cinder Cone and Black Mountain, organized a 16 hour caravan rally across California, set explorers on a Ghost Train to Portland, taken a ride via the San Francisco Steeplechase and much more. We've also pushed our goals to include the creation of a merit badge system, ensuring there are skills being developed too which in turn helps participants with inner exploration.
The Explorers Guild has put a priority on engagement to play, which has made it accessible to people who are otherwise concerned about costs, but this is why I now turn to Patreon. This program has become important to so many, myself included, and we want to continue offering these exploration experiences so that they are approachable and inclusive without a hefty price tag.
Our Patreon levels run the gamut, but each can do a lot to keep us going. By joining at any level you'll make sure we continue to explore our world with our needed materials, and perhaps even make it available to others wishing to partake in their own explorations.
The structure we've developed is engaging, flexible and has built some strong relationships within the community. A goal of this Patreon is also to find ways to reach beyond those immediate members. By trying to make our adventures, the tools and the structure available, we hope that others too can be inspired and have their own Explorers Guild troupe.
At 50 patrons, we'll begin Troupe 002 and make their stories and items available too.
3 of 3
By becoming a patron, you'll instantly unlock access to 2 exclusive posts
By becoming a patron, you'll instantly unlock access to 2 exclusive posts
Recent posts by Dr. Professor