feral forest
is creating /sharing a process of respectfully rewilding & honoring the land
Select a membership level
Go Deeper into the Forest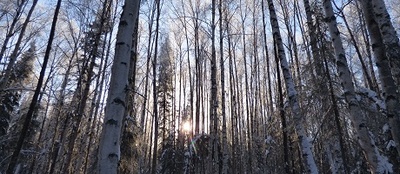 Enjoy all public content, plus early access to tutorials. This reward is sliding scale - you can pay however much you like (Type your preferred amount in the box below this text once you click the button below) - all options get you early access & monthly, high-res, downloadable behind-the-scenes views of life in beautiful places. This is a great option for people who want to offer a higher amount but don't feel a desire to receive letters, herbs, or handcrafts.
Old-School Friend
Limited (5 of 6 remaining)
If digital treats aren't your style, never fear - we'll kick it old school & send hand written letters every 1-2 months. They'll have stories, poetry, or bits & pieces of what I've been up to in my wild lifestyle. Plus previous rewards.
Harvest Wild Crafted Health
Limited (5 of 5 remaining)
Receive a seasonal bundle of wild crafted herbal medicines, which may include dry tea, herbal oil, salve, &/or tincture. All lovingly & respectfully harvested, & prepared with special care & simple ingredients. Plus $1 reward.
About
hey! my name's joan (and my pronouns are they/them), and this patreon is a space for me to share resources freely, mainly around tangible skills like hide tanning, but also sometimes about those intangible skills that are often overlooked but just as important: moving through old traumas, communicating in healthy ways with other creatures, and learning how to live and act respectfully and compassionately at our various intersections of privilege. i'm not an expert, and have varying levels of skill at the things i share - but i'm up front about that, and will direct you to more thorough resources when i'm aware of them, and will always be clear when i'm sharing something that's new for me. take it all with a big grain of salt.
since leaving college in 2007 (where i couldn't see any happy careers ahead and where i couldn't afford to be in the first place), i've been building skills that allow me to move away from homesteads and towns and toward a life enmeshed in the wild landscape. i love pushing myself to be increasingly sustainable and interdependent within my current landbase. which means i hunt, gather, & fish all kinds of wild foods, harvest wild herbal medicines, process hides and furs into clothing, make baskets to store my clothes and supplies, carve useful things from wood, and otherwise do my best to provide for my needs from my immediate environment. if you've been longing to get your hands dirty, craft useful things that will last a lifetime, and build a stronger connection with the land you walk upon, take a look at the content i provide and see if it sparks your imagination.
i'm also here to simply share what aspects of that life can feel like. a lot of people seek to live vicariously, stuck as many of us are in the painful throes of late stage capitalism. civilization has programmed us to believe that life Outside of itself (or as far away as we can realistically get) is nasty, dangerous, painful, unhealthy, and at the very least uncomfortable. i've personally found that life in towns and deeply enmeshed in capitalism is far more harmful and painful than life in the woods. some of that, i think, is due to my specific physical constitution and atypical way of being in the world - but a lot of it is simply that living simply and directly within the web of life is in our marrow, civilization is toxic, and having the patience and willingness to unmake old habits and expectations and form new ones can open up a whole world of satisfying, nourishing delights that city life can't even imagine.
What/Why Patreon?
Many years ago, people supported the work of artists they respected or admired by becoming their Patron. Their contribution allowed creators to focus on their art, and patrons often enjoyed a variety of perks and a special friendship with the artist they supported. Patreon is bringing back that practice, and making it easy to link us up - You, a potential Patron. And Me, the Creator. By gifting as little as $1/month in support, you can support all of the content I generate - downloadable tutorials, how-to videos, all the in-depth information that's normally held behind paywalls.
being a sound resource for people moving toward a wild, sustainable life, is my most important goal. but - it takes a lot of extra time to edit video passably well, and put together nice tutorials, and make sure I get every step photographed. and it takes time to write out all the details to provide a really thorough resource for folks. by getting involved in this process, you can gift a small amount that, coming from a number of people, will help make it feasible for me to use the extra time and resources to produce this content.
More Importantly
, i want this to be truly accessible to as many people as possible.
So the subscription blog cost is a sliding scale of $1-3/month, and you choose which little amount to pay.
thanks to all the love from my Patrons and a need to follow my conscience, i've decided to make all educational content freely accessible to everyone, and reward my Patrons with extras, behind-the-scenes fun, and handcrafted delights as a thank you for their support.
Who's Feral Forest?
I (Joan)
grew up in the rolling hills and forests of Pennsylvania, where i split my time between running through the woods climbing trees, and eating ice cream while playing video games. i didn't grow up knowing what plants and berries to eat or how to hunt, but it turns out i read enough fantasy novels to dream of a simpler lifestyle, and ended up moving into an intentional community at age 19 to start to figure it out.
That led to researching my way towards a sustainable life - from natural building methods to forest gardening, tanning hides to basketry, and healing with wild medicinal herbs. As i lived in different communities and gathered experience, i realized that living in tiny shacks and growing and gathering food were more appropriate challenges to my personality than holding down a job and keeping an apartment.
In the spring of 2016, i moved with my former sweetheart to Alaska. During a magical and challenging year in the interior, i joyfully fled mosquitoes, swam in remote waters, tanned hides and turn them into clothing, crafted bark baskets, stayed healthy with wild plants, and reveled in a simple life in the middle of nowhere. After that very full year, i relocated to Ketchikan, and have been enjoying the lush rainforest (which is currently in severe drought for the first time in colonizer-recorded history) as a transition point, reminding myself what's tough about town life, finding and exploring new edges and setting new boundaries, and working toward getting back into the wild.
my one wish is that my life will continue to get even more basic and handcrafted, working away from industrial society and toward a glorious future primitive.
*some of my intersections will come up in the material that i provide here, and so i'm claiming some labels ahead of time for context. i'm a fan of labels when they're self-applied and when the person claiming them finds them helpful. i identify as a queer, non-binary, asexual, polyamorous, irish-american, neurodivergent witch. if you're curious about any of these terms, great! go do some research. please do not assume that i'll be able, willing, or enthusiastic to offer my labor in educating you about them. sometimes i offer that labor freely, but only on my own terms.
this amount gives me a good bit of breathing room each month for juicy additions like new books (i've got my eyes on 'braiding sweetgrass' and 'pleasure acitivism', among others).

1 of 2
By becoming a patron, you'll instantly unlock access to 26 exclusive posts
By becoming a patron, you'll instantly unlock access to 26 exclusive posts
Recent posts by feral forest