Jamie Hiscocks
is creating content and exclusives
Select a membership level
Amber level Patrons
You will receive a rare sample of Hastings dinosaur age amber. Plus access to some exclusive content.
Dinosaur Level Patrons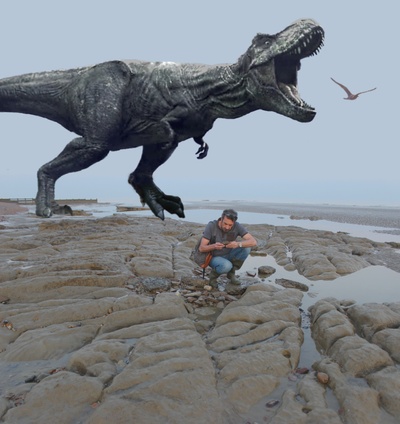 Access to ALL my private posts on how my projects are progressing and about my new discoveries including pictures of new finds. With this reward you will learn about my new discoveries long before I announce them on social media.
About
                                           Hello and welcome to my Patreon page!


Making discoveries - eco-friendly fossil collector and much more besides! 


I am an avocational, entirely self-funded, self taught palaeontologist, amateur astronomer, a fledgling videographer and I am an evolving artist creating original abstract artwork from digital photo prints. 
I have made some exciting discoveries including the amazing, world's first discovered fossilised dinosaur brain, the oldest discovered spider web trapped in Hastings amber - 140 million years old(!) and incredibly delicate, amber preserved insect cocoons of the same age, of which I also brought to the attention of the scientific community. As a result a scientific paper was published on my discovery of these incredibly intricate fossils. My discoveries appeared in the global media.
I have had an interest in film making since my first stop motion animation attempts in my teenage years during which I made several experimental short silent animation films using the stop motion animation method. I worked with soft plasticine models. I remember it being quite a challenge....plasticine isn't the best medium to work with under an intensely hot movie light! I also have a great interest in astronomy. I have been an amateur astronomer since an early age.
With support from Patreon I hope to continue what I love doing including making scientific discoveries and creating short entertaining films that I hope will make people smile and laugh. Films featuring many varied subjects including catching rare natural weather phenomena on film and both naked eye astronomy DSLR astrophotography and through the telescope astronomy plus lots lots more....I am not short on ideas.
Projects
I have several fossil projects planned and in preparation all of which require funding. One project I have planned is to publish my own book on fossils. Another is to search for new discoveries in my collection of rare Hastings 'firestorm' amber. I would also like to receive proper credit for my discoveries, which going by personal experience, isn't always guaranteed should one decide to donate a specimen. I would like to self-publish other significant discoveries I have that are left sitting on shelves in my private collection.
Another fossil source material in which discoveries are made is in a sediment material known as Hastings bone bed - collected ex-situ loose chunks of rock of various sizes which can be packed with micro-fossil vertebrate fauna. It will take me a while to process, but finding the time to do this will be difficult due to lack of funding. I am entirely self-funded which means I have to concentrate most on making extra revenue by selling off less important parts of my collection to museums and private collectors. But that is a good thing because the important fossils are put aside for future research. And the collection is constantly being replenished with new finds. The problem is that it takes up a lot of my time trying to create extra revenue. If I didn't have to spend so much of my time searching for repositories and attempting to generate an income from what I do, I would have so much more time to make discoveries and I would be in a much better position to be able to donate specimens once I have completed my research on them.
I would very much like to continue making discoveries. The amber has the potential to reveal a vast eco-system of new species including micro-organisms, plants and small animals - insects mostly. However, this will take time and requires proper funding. As I have mentioned already, I am entirely self-funded. But your help and generous support through Patreon will allow me to focus on these projects full time and continue with my passion of searching for new scientific discoveries.
This is such an exciting venture to be involved in, let us make this all happen together generous patrons! I value ALL your support.
Some background
Some years ago following my redundancy from my full time job I was left at a cross roads in my life. Then quite by chance during a walk along my local beach I happened to find a curious looking object that was lying loose on the surface. I knew hardly nothing about fossils being discovered at this locality. This find caught my attention like nothing else! I showed it to a guy I knew (Frank) who happened to be on the beach metal detecting at the time. Straight away he told me what I had found. It was a dinosaur fossil bone, he said, without a doubt! Frank had been collecting the bones of dinosaurs for some time, and he showed me his collection of fossils in his garage which he had found on the same beach. Prior to finding this curious bone I knew for a long time that dinosaur footprints were preserved on the beach - many years ago I remember seeing a plaster cast of a dinosaur footprint on display in the Bexhill De La Warr Pavilion, but not fossils like this. Immediately I was hooked! Slowly I began to find more and more fossils, not just dinosaur but a variety of animals including fish, turtle, crocodilians, lizards, amphibians, insects, plants and even fossils of flying reptiles.
My hobby gradually turned into a small niche supply business where I would offer a carefully chosen selection of my finds to museums and if they weren't interested I would offer them to collectors instead. Over the years I became more deeply involved, my interest had become my avocation, my passion for fossils had completely taken over, leaving little time to do other things. I would be hunting for fossils, visiting the beach three or four times a month, all year round, emulating other local fossil hunters long before I came along.
Fossils aren't often collected perfect ready to display from the ground. Most fossils contain a natural matrix (hard rock) jacket. They require a lot of preparation. Research is also very time consuming. But it has all been worthwhile. I have made some great discoveries. The amber I collected requires processing which can be extremely time consuming.
Salvaging fossils
Collectors really appreciate the fossils I find. Pictures of a small selection of my best finds can be seen at the top of this page. I have donated specimens to museums including a block with a partial dinosaur skeleton inside! The best feeling I get from all of this is that I am helping to salvage fossils in all weathers from one of Britain's best dinosaur fossil localities situated on the south east coast before they are gone forever by constant erosion from the elements. I now have a modest collection of fossils. I would like to concentrate on getting the more interesting specimens published in a new book 'Fossil Discoveries' A guide to collecting fossils (working title) Vol. I. But this is further down the line. I hope Patreon can help me get this into print....I know everyone, not just collectors, will love it! A couple of years ago I announced on a public fossil forum my ambition to start my own museum featuring my collection. This is a dream of many fossil collectors but I am making serious efforts to make this happen! I hope my Patreon followers can help me achieve my dream.
From the bottom of my heart, I want to thank you for stopping by and supporting this work.
Jamie
My one-in-a-million Perseid meteor astroshot. Sample of one of my very first experimental YouTube videos here:
https://www.youtube.com/watch?v=GyHCRPidq4E
This amount will allow me time to concentrate on my amber and bone bed micro-fossil study and video production. It will also bring me closer to publishing my very own fossil collector's book Vol I, featuring some of the best finds from my own extensive fossil collection.
1 of 1
By becoming a patron, you'll instantly unlock access to 8 exclusive posts
By becoming a patron, you'll instantly unlock access to 8 exclusive posts
Recent posts by Jamie Hiscocks