Ganeshway
is creating Dog Traveling the entire world
Select a membership level
Patron of Km
Adopting a Km!

Since we are on the road for a while we have learnt how to manage money meticulously to be available to do it as long as we can.
In this 80.000 Km trip we went  over 33$/day when up north till the current 10$/day of Cabo Pulmo living.
So with 3 $ you help us a lot to keep touching the road :)
Patron of Creativity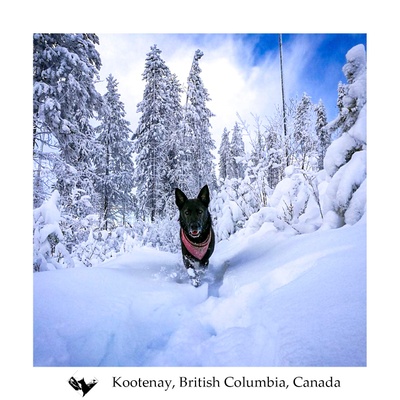 With 10 $ we have covered the budget of a day living in Cabo Pulmo. 
So we can keep focusing on Dive Master Course and creating new Framed Pictures ready for next art exhibition.
And also we will be available for nexts merchandising products we are working on design stage.
World is full of wonderful things We wanna show them
Patron of Food
Feeding is one of most important things in life. We are building the healthiest possible way of feeding Ganesh.
We may need your support

Ganesh is too thin and he is swimming a lot in Pulmo, like 45 minutes in a row. Plus the sun of de dessert with his thick black Coat
Also there are few Pit Bull who are attacking him when they see him so it is better if Ganesh get body enough to self-defending as he shows on dog fights that he is not interested in fight farther than self-defense.

Currently he is 27 Kg. The objective is to get 35 kg and see if 40 kg will be the top.

New Feeding Menu
Dry Food from local production SudCan, in La Paz
Fish from Fishermans at Cabo Frailes (80$/Kg) and try to spearfishing soon.

5 % of Ganesh weight (1350g) in food for this first month and when the body muscle will be at right level then feeding will be 3% of weight (900g)

900 g - 1350 g Diary Food - 57'90 $
33% - 450 g of Fresh Fish – 36 $
18% - 180 g Fruits and Vegetable – 7'20 $
27% - 360 g Cereal and Legums – 7'20 $
22% - 300 g Dry Dog Food – 7'5 $

Cost per Month 57.90 $ x 30 days = 1.737 $ pesos ($ 90.90 USD)

About
Hello!
I am Ganesh! I have born in Spain and I am German Shepherd mixed with Czechoslovakian wolf.
I am eager of the beauty of this planet and i wanna show to you the entire planet!
Please support this adventure of a Dog Traveler.
We are on the road since
June 2017!!!
This journey began in Montreal and then I went to Nova Scotia where I met the Atlantic Ocean! From there... all the way to Alaska!!! And then the Arctic Ocean in Northwest Territories of Canada. Then was time to go south and to meet the Pacific Ocean in Vancouver Island.
Currently I am in California and I am very ready to keep going south until the Antarctic Ocean!
Since June 2017 I did 40.000 Miles in a Car  so it is time to jump in a Van to make the trip to South America with a personal space to make more projects on the road!
1 of 1