GibbArts
is creating Illustrations and Creative Works
Select a membership level
❀ Sproutling Tier ❀
 Thank you so much for supporting me! In this tier you will receive:
View-Only access to WIPs and sketches 
Early access to finished pieces before they're posted publicly
Exclusive access to the Patreon-Only discord server (Note: This won't be going into effect until the first goal is reached.)
❀ Dandelion Tier ❀
 You're movin' up in the world! In this tier you will receive:
Everything from the Sproutling Tier PLUS
Access to all patreon polls 
The opportunity to give ideas for future content when prompted
Access to monthly sketch events (you can request sketchs of certain characters, ships, and even your own OCs!)
Access to High Res Files and PSDs that show art process from start to finish
Early access to commission slots and top priority in my lineup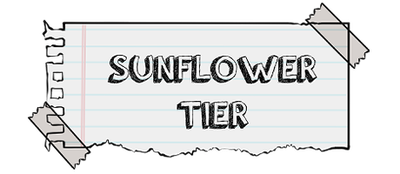 ❀ Sunflower Tier ❀
 You get to learn funky things! In this tier you will receive:
Everything from the Sproutling Tier & Dandelion Tier PLUS
Access to art tutorials (and the opportunity to request certain kinds!)
Access to Speedpaints!
Access to the "Sunflower" Discord Chat where you can ask questions about art, get advice, and request different art ideas!
About GibbArts
❀ Hello! My name is Gibby, and welcome to my Patreon! ❀About the Patreon
My patreon is a platform that I use as a freelance artist to fund my illustrations and numerous art projects. While I do have a part-time job and consistent commission work, the amount of time and funding I have for original projects and fanart is greatly limited. By supporting me through this patreon you will help me find balance financially and emotionally so that the content I create can keep coming! The money I receive will be used to cover living expenses, but will also fund the production of prints, stickers, and other fun projects I have planned for the future!
About the Content
The content I create through this patreon will be catered to my interests as well as the interests of you guys: the patrons! I will post numerous polls to the patreon so that you can request different kinds of work, with additional sketch request events and idea submissions. The patreon will additionally follow my journey as I work hard on my current projects. These projects include things like fan comics, original content, and general fanart that you will have early access to! More content will include art tutorials, art speedpaints, and process shots.
Additional Links
Portfolio
|
Online Shop
|
Tumblr
|
Twitter
|
Instagram
I will create a Patreon-Only Discord server available to all Patrons paying $1 and up! On this server we can chat about fandoms and upcoming art! There will also be a "Dandelion" channel specifically for those paying $10 and up.
1 of 2