Gonzalo Alvarez
is creating The Legend of Polloman an Aztec Epic Fantasy+more
Select a membership level
Polloman The Follower
Thank you for supporting this journey! Follow along with Patron exclusive post and an exclusive physical postcard every season!

Patron Exclusive Seasonal Postcard- ( Mar-July-Sep-Dec)
Patron-only Post (Sketches, News)
Access close friend stories on Instagram @Gonzzink (shoot me a DM if you're a Patron)
Xochitl The Spy
Spy on whats going on behind the scenes and access old artwork hidden from the internet.
Behind-The Scenes Art Post (Concept Art, Character Designs, and Commentary)
Access Secret Folder ( Polloman Prototype Comic, Early Concepts and more)
Everything in the 1$ tier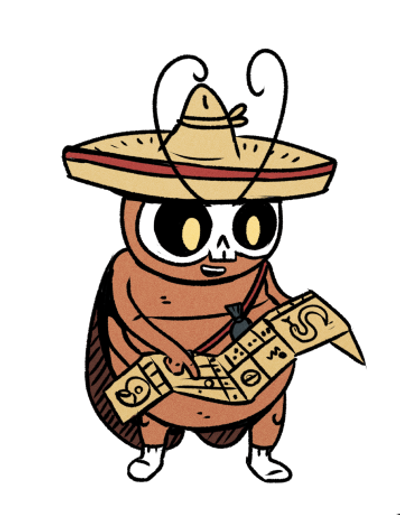 Cuka the Explorer
Explore and learn about the world of Mictlan and other projects before they are revealed to the public. 
Lore Site (Early Access coming soon)
Prototype Access ( Paper and Pen RPG, Board Games Design notes, Old Scripts and more)
Everything in the lower tiers 
About Gonzalo Alvarez

Cualli Tonalli! This means good day in Nahuatl, the language of the "Aztecs" premiering in the Legend of Polloman, a soon-to-be-published Aztec epic fantasy graphic novel. By becoming a patron you can help us bring this underrepresented world to life.

My name is Gonzalo Alvarez (Gonzzink) and I'm a Mexican-American illustrator, graphic novel author, and game designer. Despite growing up poor in a no-name artless little town I achieved many of my dreams thanks to my college mentors, peers, fiance, and people like you, patrons.


SO WHAT IS POLLOMAN?

The first Aztec fantasy universe.
I grew up with Asia-inspired fantasy worlds like Avatar: The Last Airbender and Studio Ghibli film, so I thought, where are the Aztec fantasy worlds?
This 8 book graphic novel series is an
effort to bring the culture, magic, and history of Mexico's indigenous roots to life through a deep story and rich world.
However, I am also working on a clothing line, merchandise, games, and so much more.
PLOT SUMMARY:
Stumbling into an Aztec underworld threatened by 6 terrifying Latin American Legends, a timid boy named Emmanuel must learn the true meaning of sacrifice and awaken dormant gods in order to finally bring balance to the world of the living and the dead.
(check out more art on my instagram @gonzzink)
Readers will encounter Latin American Legends such as El Cucuy, La Llorona, and mesoamerican ghouls absent from our media...up till now. Expect mystical landscapes, a diverse cast of well-written characters, and stylized art inspired by
over three years of obsessive research into Mesoamerican culture, history, and folklore.
I hope to create the most unique and authentic universe possible!
HOW YOU CAN HELP POLLOMAN!
By becoming a patron
for the cost of a cup of coffee a month,
you can directly help fund the Polloman intellectual property and receive exclusive rewards
in return. By helping us cover studio bills, services, and more, we can say no to commissions and put all our time and energy in creating the pilot episode, board game, video game, plushies, sculptures, and so much more!
Polloman has only been possible thanks to my assistant creator and Fiance Grace Chadwick, Still Eating Oranges, and my amazing patrons.
HOW TO BECOME A PATRON
Patreon is a place where you can support Polloman through monthly pledges in exchange for exclusive rewards. All you have to do is click the orange button on the top right, insert your info, select your reward, and that's it!

You'll be charged the moment you become a patron and then the first of each following month for the amount you pledged and you can always cancel or change your reward.


WHAT REWARDS DO YOU GET?
 For just $1 a month, you get patron-exclusive updates and a seasonal Postcard mailed to your doorstep. (check out this months card!)
It doesn't seem like much, but even $1 shows others I'm worth supporting and adds up quickly. (500 fans = bills paid = Polloman Books! Games! Cartoons!)

Higher tiers 
exclusive behind-the-scenes material, Original artwork, Merchandise
 and so much more.
It's been a hard long couple of years developing Polloman, but thanks to the support of my friends and patrons it will soon be out in the world. 
I hope you consider joining me
on this journey!
You can see more of my work at:
www.Gonzzink.com
www.Legendofpolloman.com
If we can reach just $600 per month, Grace and I can afford to work full-time from home creating the first Graphic Novel+more without worrying about finances! 

I'll have a live-stream to celebrate with everyone and talk about what's next :)
2 of 5
Recent posts by Gonzalo Alvarez