Gorilla Grunts
is creating Motorcycle Adventure Vlogs
Select a membership level
The Fonz Level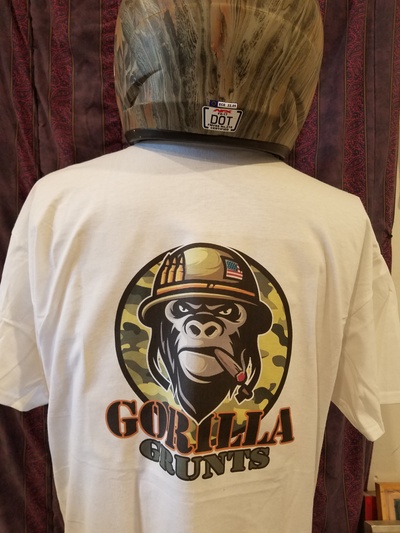 Patreons on The Fonz Level will receive a t-shirt with our logo.  Yes, we have a logo!
About
Thank you for taking the time to visit our Patreon page.

We are a regular family.  That's about as simple as it gets.  In the house we have; a husband, a wife, a teenage son, and two small grandchildren.  Just to let you know, we have custody of the grandchildren.  You know, that old American tale.

This page started when our teenage son decided he wanted a motorcycle like all his friends had.  The husband grew up riding motorcycles but he had been off them for years.  When he took the teenage son to look at bikes he got that old itch.  Seriously, we went in for one bike and a couple of credit applications later we leave with TWO bikes.  I'm not sure what happened, it was all a blur.

Let's skip forward to the point that we have a couple of bikes, a couple of ATVs and a GoPro.  Now it's time to make some videos.  Right now we are learning the ropes.  Trying to figure out where the cameras should go, what kind of rides do people want to see, plus training the teenage son (as well as a 30 year old son-in-law) how to ride safely.

The reason we started a Patreon page is so we could upgrade our recording equipment.  We need more cameras (MANY more cameras), a serious sound system, and better editing software.

We will be adding benefits for our subscribers but it will take some time.  You have to walk before you can run.  Or in this case, before you can ride.


Pair of Sena Bluetooth in helmet communication devices.
1 of 2
Recent posts by Gorilla Grunts