CROME
is creating Greenhouse Gallery
Select a membership level
The Dreamers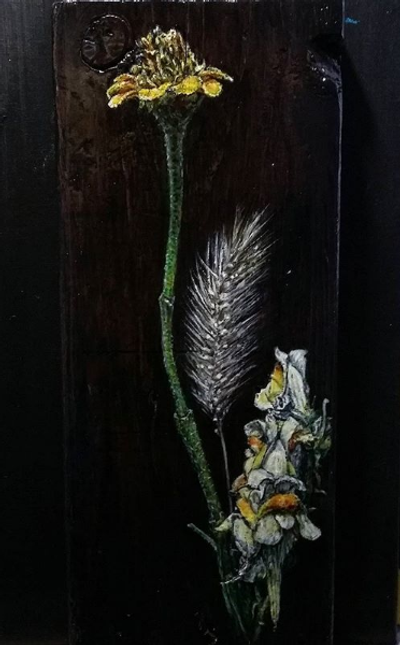 "Dreamers" is a tier for all of you that are Dreamers. You may want to really support my vision of teaching art, sustainability, down to teaching how to paint beautiful images and LEARN abou them at the same time! But, maybe you don't know much about me? This is for you! You can always change your status to Believer or Dreamer or opt out whenever you want!
Dreamers will gain access to exclusive "Patreon-Only" shared posts! With the ability to interact while gaining insight on the the progress of Greenhouse Galley dream
With behind the scene photos, personal shares, and more - each Dreamer will also receive a custom designed thank you card signed by yours truly...CROME!
*((this may be subject to change as more details get ironed out and more rewards are added))
The Believers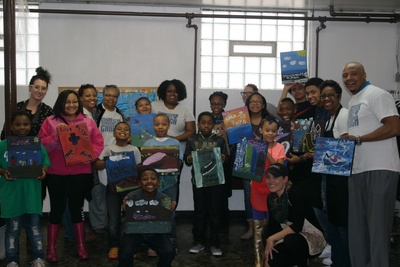 "Believers" is a tier for all of you that believe in me and want to help make a positive change in the world.  Each Believer will have 25¢(10%) donated per month towards art supplies I will be donating to a local art organization helping keep art education in their lives. It's extremely important to me and something I'm passionate about. 
All Believers also gain access to exclusive "Patreon-Only" shared posts! With the ability to interact while gaining insight on the making and the progress of Greenhouse Galley.

With behind the scene photos, personal shares, and more - each Believer will also receive a custom designed thank you card signed by yours truly...CROME!
Believers will receive a personalized postcard from someone at the charity thanking them for their donation, and any Patrons from "The Believers" on up to "The Nocturnals" will also have access to Healthy Living posts where I share helpful posts on natural remedies, food and recipes! 
*((details may be subject to change as more things get ironed out))
The Makers
Limited (100 remaining)
"The Makers" is a tier slightly above "Believers" because they believe in making things happen.  Each Maker will have 25¢(10%) donated per month towards art supplies I will be donating to a local art organization helping keep art education in their lives. It's extremely important to me and something I'm passionate about.  
The Makers will help ME - MAKE it happen - if I can achieve 100 Makers by or before Dec 1st! Once we get to 25 I will change the limit to 100!
All Makers gain access to exclusive "Patreon-Only" shared posts! With the ability to interact while gaining insight on the making and the progress of Greenhouse Galley.
With behind the scene photos, personal shares, and more - each Maker will also receive a custom designed thank you card signed by yours truly...CROME!
Every month you will receive a stickerbook of stickers designed by me! (Must hit 25 Makers)
About
Greenhouse Gallery is an eco-driven, art & design powerhouse fueled by preserving & improving others lives & the world we live in! Constructed mindfully, adorned & furnished sustainably by CROME; GHG offers gallery tours, events, & workshops that educate, encourage, & inspire. Always: Wonder. Explore. Indulge, & LIVE
Thanks for joining me, supporting me, and checking out what I do! My name is CROME! That's ME, lil' CROME, putting in work at the age of three by helping my dad out in the yard !
Little did I know I'd be using these photos to embark on what I loved as a child, something I lost sight of.
35 years later, I am just now remembering the constellation and butterfly books I had and how fascinated I was to discover. I had a rock collection with fossils, geodes and more.. I had a "pet" black squirrel that lived in our Oak tree, where I collected several acorns, converted a cardboard box into a home - stocked with several acorns! I organized a brown bag food drive in 2nd grade, the entire school became involved, and I remember being so proud of how much food I raised for the homeless. I was brought onto the auditorium stage we had outside, was introduced, and commended for organizing something like this.
During my youth, there were several strong campaigns, such as D.A.R.E. and, the one we still practice today: Reduce, Reuse, Recycle. Pretty sure it's engraved in my memory. But, it wasn't sending the RIGHT message - an insane amount of plastic was being produced at that time, and everything was going to just be fine if we recycle it? THANK YOU CREATION OF INTERNET! How much wiser we all became!
Mission:
Simply Put:
To build a mobile, traveling, and touring tiny gallery - promoting that sustainable life!
Extended Version:
The Greenhouse Gallery -
is a mobile, traveling & touring custom designed art gallery, focusing on sustainable aesthetics from fine art - to designing innovative products, furniture, with plans of scaling larger.
While traveling throughout the country, GHG will also be orchestrating workshops in cities & towns that motivate & encourage folks to be more mindful. Beginner's gardening shops, showing young & old how to grow your own from kitchen scraps, and down to a DIY class on how to make a tin can soap pump. We will teach you how to rethink in order to save money, feel better with courses teaching nutrition and it's importance on our mental vitality, as well as our body's. Some fine art classes ending with a yoga session or meditation.
In between and around the educational bits - Greenhouse Gallery will attend outdoor/indoor art & music festivals, provide inside tours of the place with my art & designs showcased throughout.
Besides the GHG workshops & attending art/music themed festivities - collaborating with local organizations in each town, offering pop-up art-focused events; fun educational workshop by teaching sustainable methods to produce some really cool art! Encouraging daily lifestyle changes by further helping with the transitional phase into this non-materialistic, wholesome lifestyle that I know, and also fell in love with.
I feel it's important to spread information and knowledge that cannot just inspire you to create art - but also to create delicious wholesome dishes. Art is such a great form of therapy, but nutritious food is our therapy for the body - both combined nourishes the soul. After decades of miseducation about nutrition, undisclosed warning of addictive elements added to food, drinks and more - it's time to rise up. Its time to not rely on others to make us feel better - it's time to be responsible. It's time to learn, share, unite and rise.
If you are an organization that has the same beliefs, I'd love to hear any ideas you have on collaborating with one another.
The "WHY":
We have a huge plastic pollution epidemic, as well as obesity, diabetes, miseducated masses killing themselves daily as they have no choice because they're too poor to afford organic produce - and misdiagnosed or overdiagnosed patients in medical debt, as well as the start of an addiction to prescription drugs! This is all a trickle-down effect. But, it keeps Big Pharma's pockets fat and the population under control, right?
Were you aware that 95% of the world's water has micro-particles of plastic?
Oh yea.
Did you know that about only
10%
of the plasics we recycle rarely skip the landfill?
This is for a number of various factors; from people not being advised on how to properly dispose of the waste, to random people on the street throwing equally random things in the "blue bins"(recycling bins)resulting in placing the entire bin in the landfiil - "compromised".
Also, it boils down to just
how
common were manufactuing the production of plastics. We've been built on a very wasteful mindset. I've realized how difficult it is to change habits that have been instilled, if not encouraged, or passed into law - by society.
15%
 of those plastics you've been loyally recycling daily get burned off. What type of fumes do you suppose they're emitting?
But the staggering number is
SEVENTY FIVE PERCENT
of the "recycled plastic" is already heading to a landfill near you!
How does that make you feel? This is just a glimpse of topics I will be discussing, sharing and covering throughout the Greenhouse Gallery journey; whether it's one on one in a workshop setting - or by sharing helpful tips to to my online following - my mission is to open up people's eyes to what's right in front of them.
Start researching that mysterious weed they encourage us to kill and you'd be amazed how much it can cure certain ailments; used as tea/coffee; cure a rash; help with digestion; and the list goes on.
Folks, I can't stress how important we get back to the basics.
Especially in our current state of shock, now with President Cheeto running this nation to destruction by convincing those with less IQ that climate change is fake, we need a wall, and so many other bizarre ideas that won't make a difference when our world is dying... Prioritize, folks. 

Behind The Name: Greenhouse Gallery

Over the last 5 years, I have been extremely limited financially - because of this, I rehabbed most of gallery from scrap wood I found; from those scraps I created furniture to fit my small apartment in which I downgraded to in order to have my CROMEgallery dream become reality. From the furniture I created, I also had more leftover scraps - and those turned into exquisite wall decor, and CROMEdecor was born. Then I had itty bitty scraps from decor items that I created into necklace pendants.

Besides that, I also began urban gardening to help save some money, I began making my own compost from kitchen scraps, I designed/built a mobile composting bin, I built a raised garden bed from old cupboard mismatched doors on my cement slab behind gallery, and every windowsill I had was lined with herbs or vegetables. I ended up raising 7 Black Swallowtail butterflies after one strange morning of discovering 7 on their host plants! Parsley!
Before closing my gallery I wrote out what I would LOVE to determine what I was going to do after it's closure:

- To travel (Hadn't had a vacation since I was 19, 19 yrs later! Here I am!)
- ..But, somehow still garden
-  ..And have a gallery
-  ...And teach workshops
-  .....With my furry galpal, Miss Mia the Diva.
-  ..... and somehow still give back
 I researc
hed A LOT.
Can you live in an
actual Greenhouse??

YEA!  And! apparently the air is better, it's more efficient in heating as the plants keep it insulated in their magical ways.

So, there ya have it. The plans of Greenhouse Gallery began in summer of 2017,
Source:
living in a greenhouse

What else?


I am a huge believer in helping organizations. I'd like to incorporate a business model where with every mile in between cities we travel to, 25¢ will be donated for every mile and go towards purchasing art supplies in which will be given to a local art program or organization that is in need of supplies, but also helping keep the arts alive for the kids! If we have more than one art class booked in that city, it'll raise by 10¢/mile per new art class!
As an example, traveling 350 miles to a city would generate close to $90 that would be used to buying art supplies. More information will be revealed regarding this incredible perk, and when it is revealed - we will be taking entries from organizations to win the chance of receiving art supplies once we book traveling to a city!
Why do you keep saying WE?

Well, because my 11 year old rescue Miss Mia the Diva will be assisting me! She's a great hostess and she absolutely
lives
to be pet - like, she will not let you leave without petting her!
She will absolutely LOVE this adventure! She'll be 13 in February! So, I'd really like to get things movig! I had planned on creating a coloring book filled with illustrations along our journey titled "Adventures With Mia" - but my luggage was lost and a lot else - slowly rebuying things - but the art I'll never be able to replace...
Why Am I on Patreon?
To hopefully reach a broader audience, network with people that have the same vision, beliefs, and goals as I. To hopefully form a resillient team, to grow this concept, and make into a multiple traveling gallery-squad of creatives and earth loving individuals.
And, I quit a lot of jobs and gave up a lot to focus 100% on this - the only income I have coming in is from what I hopefully sell of my artwork - while also forming a company, and building my vision. Any little bit REALLY helps me, and Miss Mia. <3
What do I need in order to make it happen?

Now that it has been almost a year since moving out west to Colorado, and that I have a less toxic living environment to reside in until I can afford a trailer, truck and building materials - I know exactly what I need.
-
Build
Site
: I need a place to build, open land desired that I can pay a monthly fee. The height of tiny gallery can't exceed 13.6' and it'll be approximately the size of what my brick & mortar gallery was, roughly 400 sq ft. I can build in 4' x 8' segments and then attach to a trailer bed - but I need a trailer!
-  
Materials:
Pretty important. If you have any left over wood from a job site or recent remodeling/construction, and are near 81082 to arrange a drop off, I can trade you in art, design or labor. Your choice. OR, sponsorship.*
-  
Trailer/Hitch:
Really important component if I want this thing off the ground!
$1-3k
-  
Truck:
Something decent, 4WD, low mileage, and that can pull some weight
$1500
-  
Colorado
License
: (currently in process of obtaining) 
-  
Permit:
Before the build begins - pretty sure Colorado requires a type of permit for tiny homes - just to make sure I'm not driving around a home made from toothpicks putting lives at risk on the road! haha
*please message me regarding any sponsoring opportunities.
Any sponsors will get a custom brand that will be used to brand somewhere in the GreenhouseGallery before shipping to you. ($100 value)
What can you do to help if you don't have any materials to donate or money?
Volunteer to help me build it (once build location is established), support the vision by sharing, and helping spread the word! And of course, follow me on Patreon and share my page with those who have a green thumb and heart! :)
Thanks so much for the continual love and support despite my delay in finalizing some works of art because of this last year's unexpectancies and turmoil.  I'm hoping once you receive your art frome me that you'll understand; regaining hope in me on this next adventure. 
Mindful, Sustainable, Creative
CROME
A truck, trailer, hitch, fees for title transfer, registration, and hopefully a few tools needed before the build.
1 of 2
Become a patron to
Unlock 24 exclusive posts
Connect via private message