Gregery Miller
is creating Art, Stories & Comics
Select a membership level
The Dream World
Is Reverie all just a dream? Help Nous on his quest to find his missing father.
By pledging $1 a month you'll get a patron-only perspective on my work every 30 days.
behind-the-scenes footage of my process
Patron only feed revealing secret views of my art, characters & concepts for future comics
Videos of my art-making process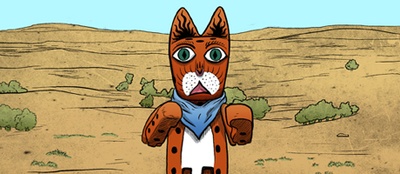 The Hinged Cat
Nous' favorite toy is brought to life in Reverie, but can he stay out of trouble? 

For $5 monthly you have two options:

OPTION 1: Monthly how-to tips on making, drawing and writing comics or on creating artwork in any medium.
OPTION 2, STANDARD COMMISSION PAYMENT PLAN: Use your monthly pledge of $5 towards a $25 commissioned drawing after 5 months. The drawing would be mailed after 5 months and would be a black and white character of your choosing. Specifics can vary depending on the project.
With either option you'll also receive all previous rewards
Gnobo's Song
When Gnobo played the Oracle's Song he had a dark premonition of the future. Help him warn his teachers, the Three Wise Oracles, before it's too late! 
At the $10 level you have two options: 
OPTION 1: A new signed digital print of my artwork mailed to you monthly. 
OPTION 2, STANDARD COMMISSION PAYMENT PLAN: You may count your monthly $10 pledge towards a $50 black and white commission drawing which is very detailed, includes one character. You will receive the commission at the end of the 5 months. Specifics can vary depending on the project.
OPTION 3, Button Pack: A pack of 5 different art pins for your jacket!
Whatever choice you make, you'll also get all the rewards from lower price tiers
About Gregery Miller
What are The Tales of Reverie?        
http://thetalesofreverie.com/
The Tales of Reverie are a series of fantasy graphic novels that take place in an expansive magical world. I have been developing the world and characters since I was in high school. Many ideas come from childhood sketchbooks and dreams I had throughout my life. 
How Does Patreon Work?
Patrons pitch a recurring amount of money each month to help bring this project to life. As I produce exclusive content, they are given priority access and sent specific rewards. There are tiers to pitch between $1 a month and $50 a month. Each tier provides greater perks. For example, the higher tiers will earn you better perks like original artwork and tutorials. You'll get something from me each month if you become a patron whether you pitch $1, $5, $10, $15, $25, $30, or $50. Check out the perks in the right hand column.
The Field Guide
As I work on the comics, it's necessary to step back and design the world in more detail. Some of the characters in the script have not been designed yet and still only exist in my imagination. And so I am simultaneously creating a field guide to the world of Reverie which will include detailed breakdowns of characters, as well as maps, and concept art of locations. I'm also always writing, which is sometimes difficult to show progress for visually. Check out some examples of my characters
here
!
The Ongoing Comics (Graphic Novel 1)
My short-term goals through this Patreon project are to produce comic issues #1-5, which in turn will make up the first graphic novel. After that I will print them as a collected edition. The entire work will be multiple graphic novels and a field guide upon completion.
How do you selfpublish and whats your end goal?
I've used Greko Printing for self-publishing many times and they always do an amazing job! The end goal is to find a publisher who can distribute
The Tales of Reverie
to a wider audience.
What do patrons get out of it?
If you contribute to my monthly campaign I have all kinds of cool perks to give out like art prints, comics, behind-the-scenes sneak peaks, and art tutorials! I am also open to offering other suggested rewards if they are of equal value to what I have listed.
What does the future hold?

These characters and stories I've created will take many years to produce. Patrons can pledge monthly for as long as they want and can stop pledging at any time. With the right support, content will premiere regularly until the larger field guide and graphic novels are ready to be released. All patrons will receive a private monthly feed of the work being produced.
Support from patrons will go towards:
1. Buying time to illustrate the comics, graphic novels, and field guide
2. Mailing rewards to patrons
3. Writing stories for the field guide and comics
4. Self-publishing: Printing and distributing the comics and field guides
5. Buying new supplies and tools necessary to producing the comics
6. Creating the field guide of characters and locations
7. Exhibiting in conventions and galleries to gain more exposure and pitch to publishers
What professional work have you done?
I'm a former Cartoon Network's Adult Swim background artist and through the years I've also worked with Hitpoint Games on Disney's Fairies for Microsoft, I've designed apparel for Urban Outfitters and DSF Clothing Company and I've worked on a large scale art installation for Desert X in Palm Springs, CA with a prominent contemporary artist. These jobs have given me great experiences, huge challenges, and I'm thankful for the connections and skills I've gained with them. My professional work has pushed me to new levels but my goals have always stayed the same, to illustrate my stories.
Thank you for considering pledging to The Tales of Reverie. This will be an exciting journey that I hope to share with you!
Online Shops
https://www.gregerymiller.com/shop/
https://gregerymiller.threadless.com/
https://society6.com/gregeryjamesmiller
When I reach this level of funding I will be able to print 100+ more copies of The Tales of Reverie Volumes!
1 of 3
Recent posts by Gregery Miller