Damdoshi, Hanged Bunny Studio
is creating video games and engines
About Damdoshi, Hanged Bunny Studio
I am Jason Brillante and I have founded Hanged Bunny Studio, an indie video game studio.
My website is 
http://hangedbunnystudio.com
My video games are mostly inspired by a role playing game book: "The Derision", and of course adventures friends and I have lived throught it. It offers a dark desert and robotic universe. This book was written by myself years ago. Additionnaly to games, the studio is developping software libraries and -soon- engines for C.
One of our game prototype is available on Steam: Macroboy Y, which is a very fast splitted-screen multiplayer fighting and platform game.
My current project is Melordandek, a puzzle game with visual novel like narrative.
I often participate to game jams that makes my video game programming wishlist grow.
Currently, there is at least two games that may be next after Melordandek is released, they are "Allan" and "La Morsure des Ténèbres" (The Bite Of Darkness). Both are available on my website for free, they are playable demo.
The currently only software library developped by Hanged Bunny Studio is the LibLapin, which is based on SMFL and used by of my games. It is available on 
http://github.com/Damdoshi/LibLapin
.
On this page, you will see pictures, musics, scripts from my video game once they are made. You may also have access to those video games themselves. You will also see promotional pictures and artworks of them.
Select a membership level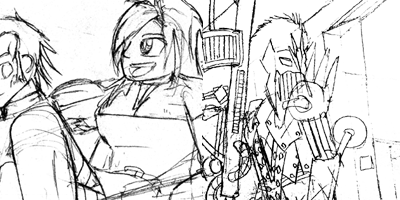 Young rabbit
You have access to all promotional material in full resolution: posters, stickers, cards.
You have access to assets sketches and additionnal informations about how current developpments go. Assets sketches include exports of in-progress music composition and portions of plot manuscripts.
Rabbit
Access to all previous tiers, plus:
You have access to game resolution graphics and musics when they are produced or updated. You have access to plots in the current status (there will spoilers alert if it is required, but a lot of updates will not be straight plot, more general orientation).
Your name will be added to our game credits.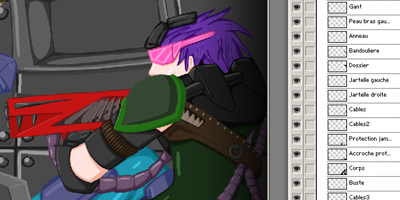 Killer rabbit
Access to all previous tiers, plus:
You have access to full resolution graphics and musics when they are produced or updated. (.psd files for graphics, .mid and sound projects for musics)
You have access to our work-in-progress games in their current states.
Each slice of 160$ is a full-time day working on HBS, which complete my work already done on week ends and evening.

A day working on HBS can mean:
- A valuable piece of software programmed and tested
- One or several illustrations done
- A new music, new sound effects
- Any other valuable work

This money can also be used to pay an external service: designers, musicians, etc.
1 of 4
Recent posts by Damdoshi, Hanged Bunny Studio