The High Paladin
is creating Illustrations, miniatures, and other (mostly) knightly things!
Select a membership level
Citizen
Every penny counts, and goes toward more time and more supplies for crafting! You'll get access to the patreon-specific feed and all the early access pictures, along with the early updates on new projects and items, AND the WIPs! Not to mention the Behind The Scenes on stuff!
Your dedication, how ever small, is appreciated.
Squire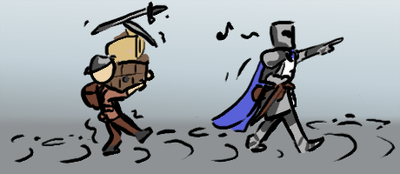 A little over a long period means a lot, you'll get everything the previous tier offers, and you become eligible for giveaways and other special events! (You'll also get access to the special place in the discord if I ever get that working)
Thank you for your support! Everything helps.

Includes Discord benefits
Paladin
My friend, you humble me.  You'll get access to the suggestion box, all the bonus freebies (background variants of pictures, etc) and everything the previous tiers have along with your own special custom icon if you want one! (single time per person)
Includes Discord benefits
About
SENTIANT. ARMOUR.
Right, now that's out of the way as my opener...
Hey there! I'm a mixed media artist with a particular fancy for medieval fantasy and artistry, armour in particular being my jam!
I give lots of helpful art advice on drawing, painting, sculpting, or really anything I've dabbled in and can help with! That's not limited to patrons or anything, either, I just like to share what I've learned. I mostly do that on stream.
I make all sorts of things and I'm very likely to ramble about knights and paladins and castle histories, or art and artistry as a medium!
I've also spent several years developing a fun, beginner-friendly tabletop rpg! It's still a work in progress right now and honestly just something for myself and for fun, mind you, but that's a thing you might enjoy having access to or watching the creation of.
I have a highly detailed idea that I often draw things of, write shorts about, or other fun medias to do with, that is all based around a story with
sentient armours!
So if that's your kind of thing there's plenty of that to enjoy chatting about and supporting, plus fun behind-the-scenes details on all sorts with it!
I'm passionate, creative and friendly, and it means the world to me that I'd be able to share this with everyone!
____________________________________________________________________________
Why become a patron?
This is literally the best possible way to just support me and my projects, it's also one of the only ways I can keep it all so open.
Becoming a patron not only provides needed support and supplies to me, but nets you early access and even a chance to give your own input!
It can also give you exclusive access to voting on new projects and crafts, first dibs on many unique creations that I'd be selling on and even some raw one-of-a-kind items!
If that's not enough for you, I give a ton of personal advice, tips and tricks, cute drawings and comics! Along with shiny bonuses in my stream over on Twitch if you like that sort of thing!
Patrons even get regular rewards for staying around, including (but not limited to) custom icons, entry to special giveaways, doodle requests, comics, and unique background versions of some drawings!
Not to mention the behind-the-scenes of pretty much all my projects, and a lot of additional musing. 
Like, a LOT of additional musing.

I'm here for a laugh and a good time, and I hope so are you!
Maybe we can enjoy it together!

Recent posts by The High Paladin
By becoming a patron, you'll instantly unlock access to 33 exclusive posts
By becoming a patron, you'll instantly unlock access to 33 exclusive posts