Holly Brockwell
is creating exciting writing, daft videos & a safe home for rescue animals
Select a membership level
Catnip
If you just want to click a button and support me and my ever-growing menagerie, this is the tier for you. You'll get access to my Patreon feed with all the terrible ideas I'm coming up with in real time (and maybe a good one every now and then), you'll get to feed back on ideas and suggest your own, and you'll have the blissful peace of mind of knowing you helped my needy kitties get off their tiny tits on catnip.
Bat wings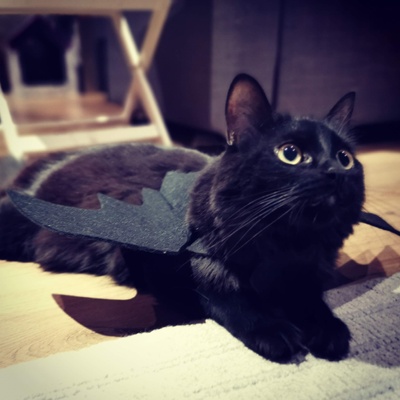 Want everything from the Catnip tier with the added excitement of a personal thank-you from me or one of my animal army? This is your tier. You can of course choose who you'd like to receive your thanks from, but I know you're all going to choose Moose. 
Mawri's teddy bear
Just like the manky teddy bear that Mawri brings to bed and drops on my face every night, you fill me with joy. That's why signing up for this tier means you get everything from Catnip and Bat Wings, PLUS you get to submit an idea for an article, video or some content you'd like to see and I'll give it my most serious consideration, like Maud looking at a piece of lint and trying to decide if it's edible. She is ALWAYS HUNGRY.
About
Remember that time I dressed up like a cat and licked my kitties with a big, weird silicone tongue? I want to do more stuff like that. More daft videos, more reviews of ridiculous gizmos, more life-affirming floofy content with my 3 adopted kitties and 14 (!) rescue birds. But I need your help to do it.

I have the equipment and I've never been short of enthusiasm, but freelancing means you have to prioritise things that come with a short-term payment, and that sucks. I'd like to have the freedom to create the positive, fun content I think the internet really needs right now. Some ideas I've been kicking around:

- Birds review tech
- Eye makeup looks inspired by flagship phones
- Testing the theory that silicone butt plugs make a great cat toy (I have one on the way for this!)

And whatever we can come up with together. I'm all ears for your ideas too. 

Content will likely be a mix of articles, videos and reviews. I'm also hoping this will give me some time to put a bit more love into Gadgette, my tech site that has to be neglected every time I need to earn some money (which is always!). If enough people support me, I could even get rid of the ads, which penalise me every time I write about sex or anything interesting (damn you, Adsense).

I really want to work with you to make things that brighten up your feed in a way that only the unique mix of me, my moggies, too many birds and a load of gadgets can. Let's do this.

If I get to this level, I'll take a family photo with me and all my cats and birds at the same time. I have no idea how I'm going to accomplish this but GO BIG OR GO HOME
1 of 5