H.O.P.E. Paranormal
is creating Afterlife Research
Select a membership level
True Patron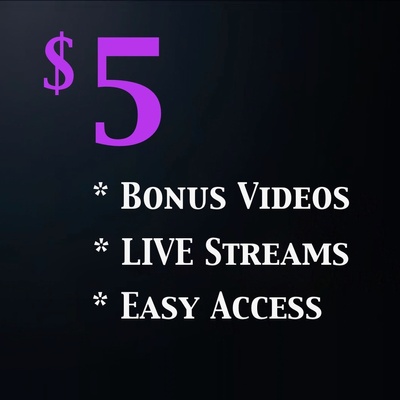 This level of support is for the Patron who wants to know more about what i'm doing in the field.
You will receive Bonus video CLIPS, access to my Private Patreon LIVE Streams on Friday nights, and Easier ACCESS to ask me questions or discuss something. 
As anyone who follows the YouTube Channel knows, I answer most comments, but as the channel grows, it will be tougher and tougher to do so. Through here, you'll always have access to me.
I respond to all comments and messages within 3 days. 
Seeking Patron
Limited (28 remaining)
This level of support is for the Patron who wants to contact a Loved one in the afterlife.
You will receive ALL of the Rewards available in the $5 Tier...
You will also receive a very Special Gift from me once you join. 
Being 1 of 100 Patrons that will be included in the Group Session at the end of the month. I will do a 60 minute group sessions each month using my Soul Speaker and DR60 Recorder and try and reach your loved one.  
After I conduct the session where I read your loved one's name and focused on them, I will review and edit the session. This takes me about 3 days to review properly, afterwards I will post the video to the page with captions and will then discuss during the LIVE stream. Please make sure to message me One name to add to the list.
NOTE: You will be charged up front upon joining and I do the Group session at the end of the month so no matter when you join, you should always make the group session in time :)
DISCLAIMER: I of course can't make promises I will successfully get your loved one to come through. My suggestion is to give it at least a couple of months and if by then you haven't received a message, you may want to downgrade to a lower support level if you wish. I respond to all comments and messages within 3 days.
Dedicated Patrons
Limited (5 remaining)
This level of support is for the Patron who wants to go as far as they can in reaching their loved one and developing their Intuitive/Psychic ability.
You will receive ALL of the Rewards available in the $5 & $10 Tiers...  
But in this Tier, once a month, via private Live Video, I will teach an Intuitive/Psychic class showing you what I have done over the years to develop my own ability. I have been taught by amazing teachers and up to this point, have given well over a 1000 readings for clients. I will now pass along what I know and continue to share with this tier, all that I continue to learn in this department. 
I respond to all Comments and Messages within 3 days.
About
Hello, Welcome to my PATREON
...
When I first started this page, I never knew it would evolve so quickly into the
AMAZING
community it has become...
If you're here, I'm sure you've seen my videos on YouTube and know, I'm a Spirit communicator and researcher of the afterlife. For the last eight years, I have continued to find effective ways to undeniably communicate with spirits and record their responses. Most paranormal investigators look for proof of ghosts, I speak to them and record their messages. My approach is different than most, as my goal is always to help them. Whether it's to try and move them on to a better place or let them know someone is listening, my approach is always with compassion and Love. That's why I'm called
H.O.P.E. Paranormal
which stands for (
Helpers Of Paranormal Entities
).
Here's a quick clip of me doing what I do...
But it's not just the deceased that I've tried to help. The living are a big part of my life as well. That means YOU!
The Youtube Channel has organically grown over the course of time and I've had the opportunity to virtually meet so many amazing people. Together we are on a spiritual journey...
But so many of you have asked me to connect with your loved ones and like
STEVE HUFF
, a great friend and mentor in this field, I've created this
PATREON
page to do just that. To try and connect with your loved ones on a monthly basis.
Here is a quick clip of me connecting a Patron to her deceased father.
A very
POWERFUL
message...
Here's an example of a
Group Session
I did where I successfully communicate with Patrons' loved ones on the roll call list. Normally about half of the people on the list come through with new names each month.
If a Patron is looking for a more focused attempt at reaching their loved one, they have two options. The first, is an
intuitive reading
where I connect with your loved one without any gear or equipment. The other, is a
private box session
where we also speak on the phone as I conduct a session through the Portal Spirit Box and the DR60 recorder. Here's another
POWERFUL
example of me connecting a Patron to a deceased loved one who was believed to be murdered...
But this page is so much more than me contacting deceased loved ones. Here in this group we learn, share, converse, and truly care about one another. Every
Friday night
I go
LIVE
for about an hour and discuss the latest videos posted, Group Sessions and answer any questions Patrons may have. Here's a quick clip of a LIVE Stream...
For everyone's convenience, I've listed below a link to my
Intuitive Channeling
site for anyone to book a private Reading or focused Box Session, including links to my other sites for the
Life Piece
,
HOPE Clothing Apparel
,
Life Anonymous
and my
Feature Films
. PLEASE make sure to check out the different Tiers I've set up including my goals in doing this work and I thank you for JOINING me on this AMAZING journey! 
MONTHLY CALENDAR - MARCH (subject to change)

LIVE Q&A Sat - 14th 10pm est
Discord/ Experiment - Thur 19th Time-TBD
Group Session - Sat 21st 11pm est
Live Q&A - Fri 27th 10pm est
Intuitive Class - Tues 31st 3pm est
Mailing Address:
Joshua Louis
PO Box 14577 
North Palm Beach, FL 33408
By becoming a patron, you'll instantly unlock access to 389 exclusive posts
By becoming a patron, you'll instantly unlock access to 389 exclusive posts
Recent posts by H.O.P.E. Paranormal