HYPERDRIVE!
is creating web comics
Select a membership level
Lunch Money
A big "Thank You" from the whole team making HYPERDRIVE! Because of your patronage, we are able to spend time making this comic every day! Also, a person invite to a monthly Discord chat with creator Matt Harding!
After School Job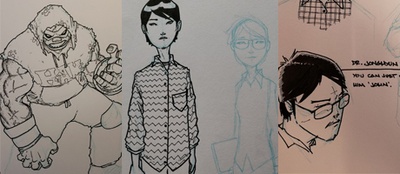 For your bit of extra patronage, we'll be including you in behind-the-scenes content, with process tips and tricks and exclusive previews to future episodes, including concept design for characters.
Internet Famous
Choose this tier if you're dying to find out what would have happened had HYPERDRIVE! fans chosen a different path for him to take! A privileged and secret tier that will give you the most in depth look at what happens behind the scenes of HYPERDRIVE! 
About
HYPERDRIVE! just revealed that he is secretly the high school student Jonathan Kim in a volley to gain more subscribers to his Flutter Channel, promising the world that he will let them decide what he does during key moments in his super hero career. Welcome to HYPERDRIVE!, where you the reader step into the role of deciding what happens next. This is an interactive social experiment super hero comic! Make sure to subscribe so you don't miss a single moment.

HYPERDRIVE! is created every other week by Matt Harding and Vincent Kukua as a Webtoons Comic. Matt and Vince have been comics industry professionals for the better part of a decade, and have always wanted to work on a superhero book.