Maou and Devan
is creating Fursuits
Select a membership level
Tiny mew
- This tier to to help support us!
- Get access to commission slots early!
- Quotes are free! 
smol bean
This tier includes:
 
- Everything in previous tier
 
- Fursuit WIPs photos
 
- monthly tips on fursuit making
 
- early sneak peaks at premades and preclaims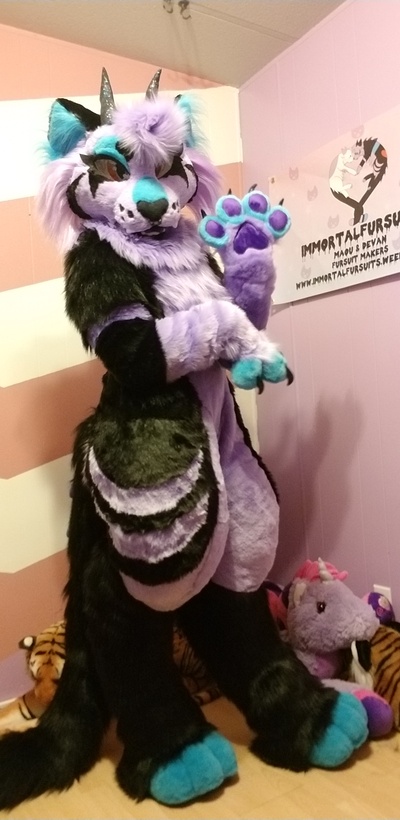 big chonk
This tier includes:
- everything in the last tier
- get 10% off on our fursuit commissions (ONLY one per patron and redeemed ONCE!)
- monthly private discord server access about fursuit making ( i will announce when i have time to do this!)
- video and picture tutorials on fursuit making
- occasional time lapses on fursuit making
About Maou and Devan
Hello! My name is Maou, and I work at home building fursuits for a living, and have a full time job, with the love of my life; Devan! We started making fursuits since march 2016, but I personally have started making suits since 2014!
We always try to provide the best experience when you commission us <3
By pledging to us, that means we can make more things such as youtube videos, more professional photos for commissions/premades, and will have more funds to get exclusive Immortals merch!
thanks so much for visiting our patreon page<3
Our social medias+ our website:
www.immortalfursuits.weebly.com
instagram: maouwastaken / immortalfursuits / immortalsale
twitter: immortalfursuit / maouwastaken
Facebook: immortalfursuits
Telegram: maouwastaken / immortalfursuits
If we reach $50 per month, we'll start more raffles over on our Intagram and Twitter! instead of giving free paws, we may offer free headbases!

1 of 1
Recent posts by Maou and Devan