Meggles Happyton
is creating Silly Comics and Illustrations
Select a membership level
Great Frog Tier
Get access to new comics a week before they come out!
Previews to comics accessible as they arrive! (may contain mild spoilers)
Best Frog Tier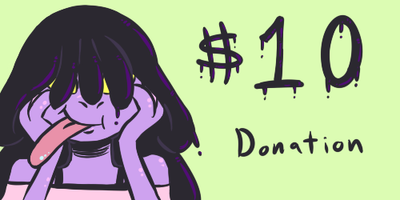 Get access to new comics a week before they come out!
Previews to comics accessible as they arrive! (may contain mild spoilers)
Behind the scenes content from comics (may contain mild spoilers)
About
My name is Meggles, and this adorable cat is Kari.

I am a self-taught artist with over twenty years of experience. Ever since I was ten years old, I've known exactly what I wanted to do with my life: make comics and artwork that people can enjoy. Thanks to my introduction to the internet, my dreams have a chance of being realized!
Unfortunately, due to a number of reasons, I am not currently able to produce work at a frequent enough pace. Many of these reasons stem from one core problem: I am not financially able to take care of them. This is why I've joined Patreon! I'd like to be able to one day be self-sufficient by making a living off my passion; artwork!
What are you capable of?
I've been on a number of online communities for over a decade, but as of this moment I'm currently most known for my fanart and ridiculous drawings:
I'm currently working on a pair of webcomics: Encore and Amy Maybe.

I am also a steady contributor to any fandom I happen to be a part of, often in ways of askblogs, discussion, and fanart.
And, of course, I also take commissions.
Find more of my work at the following websites:

What I'd
like
to do here on Patreon is find a way to continue to work on my projects while not having to worry about all the hurdles that are getting in my way.
What are your goals?
This is what I am hoping to achieve with this campaign:
Earning enough money for food for both myself and my feline friend
To continue work on my creative projects without having to worry about the hurdles in my way.
To produce a comic, along with many works, that people will enjoy.
What can I do to help?
You can help me simply be donating a dollar a month to my campaign! You're of course welcome to give me more, but a dollar alone would go a very long way towards getting me to my goal. And if you like my work, please tell your friends! I want my art to reach as many people as possible, and the more people who it makes happy, the more happy I am!
By becoming a patron, you'll instantly unlock access to 220 exclusive posts
By becoming a patron, you'll instantly unlock access to 220 exclusive posts
Recent posts by Meggles Happyton