Janice Gallant Art & The Creation Guild
is creating paintings & teaching - art & manifesting with creative energy
Select a membership level
Presence
Your Presence is so appreciated and we will stay connected here!
You get exclusive access to my Patreon only feed with lots of inspiration for you!
And I will follow you on Twitter.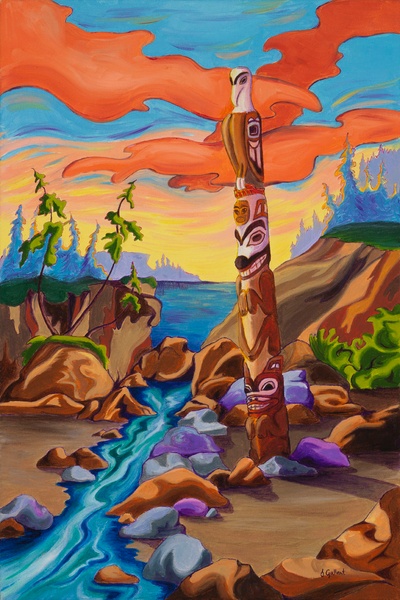 Clarity
It is clear you appreciate the arts and we will build creative energy here!
At this level you will receive everything in the previous levels along with:
- Early access viewing to all my new work of art.
- And behind the scenes images for my art and upcoming paintings I am working on.
- Videos and tutorials for getting into that creative energy flow.
Creativity
It is clear you love creativity! This world grows from creative ideas and we will create here for a better world!
At this level of Creativity you will receive all the benefits of the previous levels along with:
- Monthly behind the scenes videos and teachings.
- Videos and tutorials on creating Dream Mandalas, after your third month of membership at this level. (This is an online course I offer through Teachable but you get it here too! 
- A thank you post card with the image of one of my paintings.
About Janice Gallant Art & The Creation Guild
Create from your soul! For sure, that's my mantra. Not only do I paint from my soul but painting and writing nurtures my connection to my soul.

Hi I am Janice, and I am an artist, author and teacher. And here is where you get first views of my newest paintings, along with tutorials, videos, and blogs on painting and living in that creative energy flow so you can manifest in all areas of your life. 

Join me here and you will be rewarded with all sorts of treats to grow your creative energy.

We live in a world of color, energy and movement, and art should capture these qualities and stir emotions when others view it. How could that possibly happen if, as an artist, I am not connected to that powerful creative force flowing through me? Connecting to my creative energy is a daily lifestyle for me. I am passionate about being connected and being creative every day, along with coaching others do the same. I create paintings that show that flow with bold colors and lots of movement. I am also the author of my first published book, The Creation Guild.

Along with painting, writing and teaching, I also hold a day job.

Art and writing are unstable incomes and it is hard to rely on it for a source of living.
However, I beleive everything is possible, and when I came across Patreon, I felt strongly this was a partnership that may just work for me.

Well here we are, and my goal is to do this full time and fill the world with beautiful art, writing and teachings about tapping into this creative energy. My passion is helping people tap into their own energy flow.

People tell me that when they look at my paintings if makes them feel good and when they read my book, or writings, they feel an energy connection that feels like home and brings them closer to their own alignment. And that is the sweet spot for creating a life of your dreams.

Creativity in this flow is a spiritual experience. And I talk about aligning with your higher power when you are creating. This may be anything you believe: love, your heart, light, God, Buddha, Goddess, The Universe, your Chi....and any other term you feel connected with.

So if this makes you uncomfortable, this may not be for you. 

My goal is to get to $3000 per month so I can do this full time and have time for re-energizing, reflection, and pure alignment with that creative energy source, thereby giving back to this world through the beauty of paintings, writing, and teachings about the creative flow. 

I want to thank you for considering hanging out with me. I am deeply grateful.

And what are your rewards?
Well take a look on the side of this page and view the different tiers to see what I am offering you. 
I am offering different tiers of rewards to help everyone, wherever they are at.

Let's get this creativity going!





When I am at a consistent level of $3000 or more I will reach a level of committing to my art and writing full time - which means more for you too! More videos, better videos & improved video equipment!
1 of 1
Recent posts by Janice Gallant Art & The Creation Guild
By becoming a patron, you'll instantly unlock access to 11 exclusive posts
By becoming a patron, you'll instantly unlock access to 11 exclusive posts