Jeff Brutlag, Queer Fiction/Nonfiction Writer
is creating Books, Short Stories, and Opinion Pieces
Select a membership level
Early access to all stories
Excerpts from the novel I'm working on during the month of November for National Novel Writing Month!
Be the first to hear about future book/story ideas
Help me weigh in on future stories
Behind-the-scenes photos and videos
Receive a personalized "thank you" message
See planning materials for stories and other works in progress, such as character sheets, world-building docs, early drafts, and any bonus content that didn't get included
See all works in progress
All of the $1 awards, as well!
Oh Snap, You're SUPER Rad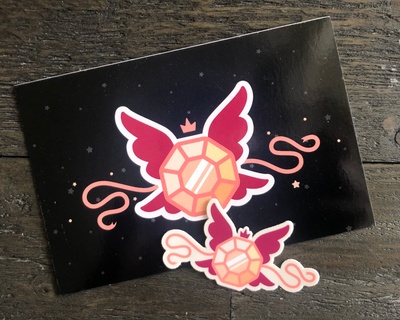 Hand-written thank you note PLUS one of my custom stickers!
Access to warm-up writings I do for practice!
All of the fun $1 and $3 rewards, as well! 
About
Hey, y'all! 
My name is Jeff. I'm a writer, 
Twitch streamer
, and avid gaymer. For as long as I can remember, I've been creating stories in my head. During my junior year of high school, I wrote a novel (that will never see the light of day, because REEKS of being a first novel) that sparked an unshakable passion for writing. 
As I am a member of the queer community, most of what I write includes queer characters, topics, or features queerness in some way. I am very passionate about representing our community, and I definitely follow the "write the stories you wish you could see in the world" mindset when it comes to the pieces that I write.
(In case you discovered my Patreon before discovering my content, feel free to check out 
my website
or my 
Medium
page to see many projects that I've completed!)
Okay Jeff, but what is this, and what am I doing here?


Great question! Patreon is like an on-going fundraiser for creators. Patrons
sell their soul
 offer their support in the form of pledges in order for content creators to reach goals they have for their creative projects (which I have listed on the left-hand side of my Patreon page). Hopefully you're here because you'd like to support my writing career by becoming a patron! 
But why do you want my money?


Creators often put a lot of their own money into their craft, which can create financial strain, especially in this society where we have to spend so much money just to survive. Not only that, but we're putting hours upon hours of work into our work simply because we love what we do, without getting paid for it!
The money from your pledges would go toward funding the website that I use to feature my writing, any planning materials needed for writing, and future investments like hiring an editor for any books I want to publish!
Do I get anything in return?
My undying love and gratitude! 
...and much more! 
I have rewards set up based on how much you pledge per month. Some include getting exclusive updates on upcoming story ideas, planning materials such as character outlines or world-building/storyboarding outlines, warm-up writings I do a few times per week, and much more!
But no worries at all, if you're not able to become a patron! This isn't to make you feel obligated to pledge, but rather to say that it'd be really cool if you did. If you can't support me with money, even something as small as sharing this page or my writing with people you know would absolutely mean SO much to me! 
Thank you so much for taking the time to read this! I hope you decide to become a pledge, because there's definitely way more content in it for you, if you do! If not, I understand, and I'm just glad you stopped by and checked it out!
When I get to this goal, I will get art of my OC's (original characters) from the novel I'm writing, and possibly put them on some merch!
2 of 3
By becoming a patron, you'll instantly unlock access to 456 exclusive posts
By becoming a patron, you'll instantly unlock access to 456 exclusive posts
Recent posts by Jeff Brutlag, Queer Fiction/Nonfiction Writer