Jema Hewitt
is creating Outrageously Beautiful Stuff! Art, Costumes, Tutorials, Stories
Select a membership level
Supporter
Access to my Patreon stream and it's exclusive content of pictures,tips and tricks, and general chatter
Friend
Access to my Patreon stream and it's exclusive content of pictures,tips and tricks, and general chatter
Preview of the podcast "google it after" one week before general release.
Patron
access to my Patreon stream and it's exclusive content of pictures,tips and tricks, and general chatter
Preview of the podcast "google it after" one week before general release.
invitations to any signings/events/fun things I'm being a part of.
About Jema Hewitt
Hello Wonderful Patreons,
Welcome!
Who am I and what do I do?
I am a full time professional artist living between England and a wonderful world of whimsical Victorian Science Fiction eccentricity...
I create unusual and inventive pieces of jewellery,  costumes, recipes and objects d'art. My Steampunk alter ego Emilly Ladybird is well known for the fabulous costumes and art pieces that have shaped and inspired the genre.
I have also published books and tutorials, (Steampunk Apothecary, Tea party and Emporium in particular) and my work has been seen in both National and International exhibitions and used to enhance other artists photo shoots, books, blogs and pages too.
Many people use my work as a starting point for artworks, cosplays and small businesses of their own, and I give my knowledge and assistance freely whenever I can, talking on the radio/podcasts and as a guest blogger.
Why do I need your help?

It takes time, space, thought and energy to make new exciting art... and it costs money to live.
By becoming my Patreon, you allow me to spend less time worrying about how to pay bills and more time coming up with beautiful unusual things for everyone to enjoy!
Although not everyone can afford to buy or commission a piece of my work on a regular basis, many people benefit from it as it spreads across the world online and in person.
We all need creativity in our lives, art, music, food, but new untried ideas can be hard to sell, and even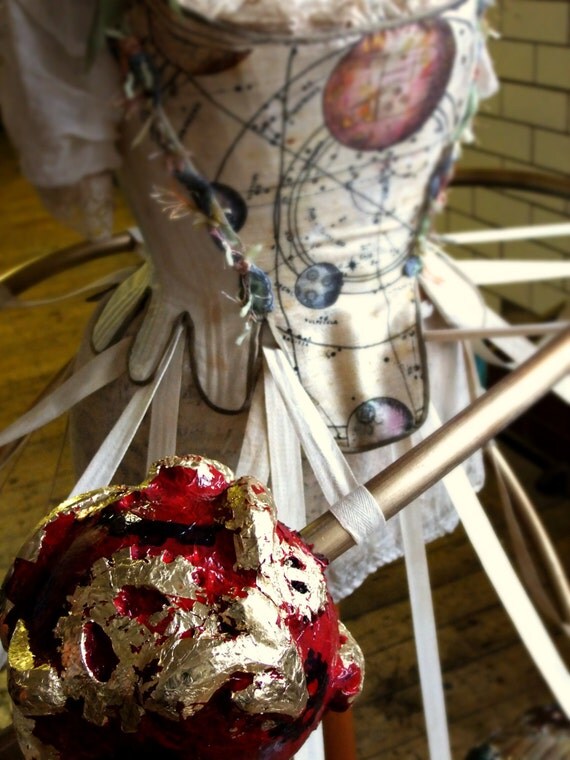 then, by the time all the production costs are met and the middlemen/retailers have taken their cut, there is often very little left for the artist. Museum exhibitions, radio interviews and guest blogs don't actually pay me to participate although everyone enjoys and benefits from these things.
To explore all my ideas and keep making new amazing things, I really really need your practical help.
So Why Patreon?

The Idea of Patreon is that rather than buying a specific item or download, you are contributing a small regular amount to support the artist - of course you also get rewards for each "creativeness" I make and release that you have been a part of!
Each level allows you to contribute a chosen amount each time I make a "creativeness" and claim your level reward - (which hopefully will be about once a month!)
The "creativeness"  might be some new recipes for absinthe scones - given only to Patreons months ahead of a new book release, or  you could be downloading a tutorial on how to make a fanlace corset as I prepare one for an exhibition...
Perhaps you'll be the first to read a short story or receive an exclusive artwork or fabric design before it goes to the printers...
Other times you'll be supporting me during  the design and construction of a huge and complex fantastic costume art exhibition piece and get tutorials on how each bit is being made. 
Although it is a regular amount, you can opt out at any time, you can also cap it per month in case I get very carried away and make loads of awesome things (you'll still get all the rewards for that month though cos you deserve them)
At last, starting at less than the cost of a cup of tea per month you have the chance to know you are truly supporting the person whose work you love, and I thank you from the bottom of my heart!
Whatever gets made, It's going to be fun, But I can't do it without you...
This amount will allow me to cover costs in my studio each month! No more panics over keeping my creative space, electricity, materials and tools!
2 of 3
By becoming a patron, you'll instantly unlock access to 20 exclusive posts
By becoming a patron, you'll instantly unlock access to 20 exclusive posts
Recent posts by Jema Hewitt
How it works
Get started in 2 minutes