J.G.Mesa
is creating Novelas y relatos / Novels and short stories
Select a membership level
Read the texts / Leer los textos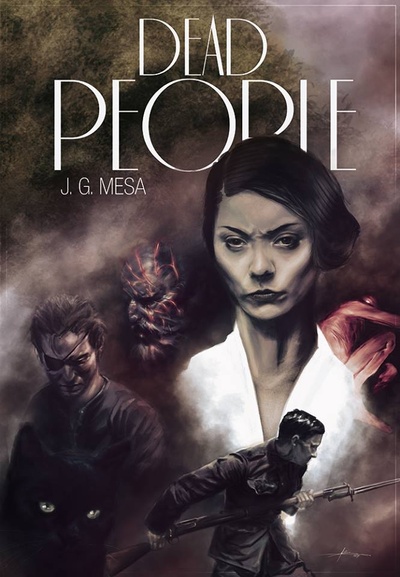 (Cover by Jose Barrero  / Ilustración de Jose Barrero)
 ENG 
 You are Cabinet agent or settler in a world yet to be explored, and you will make this mad venture possible. You can: 
. Read Dead People chapter-by-chapter on a monthly basis in English and Spanish. 
. Read other supernatural stories, like AloneWorld and the science fiction work Destiny, some of which are in English.
ESP
 Eres agente del Gabinete o colono en un mundo por explorar, y harás posible esta locura. Puedes: 
. Leer Gente muerta por capítulos cada mes en inglés y español. 
. Leer otros relatos de la ambientación sobrenatural MundoSolo y de la ambientación de ciencia ficción Destino, algunos de ellos en inglés. 
Receive the texts / Recibir los textos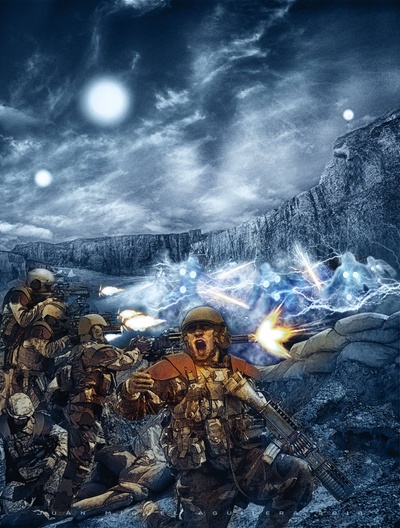 (Cover by Juan Miguel Aguilera / Ilustración de Juan Miguel Aguilera)  
ENG 
 Old Blood courses through your veins, and you are entitled to know your origins, or you're pilot of a stellar cruise ship and must know your course. This level provides you with all the aforementioned,   and:
. I will also send you the material in PDF and ePub format. 
. You will have access to extra material in both universes.
ESP
 Por tus venas corre la Vieja sangre y tienes derecho a conocer tus orígenes o eres piloto de crucero estelar y debes conocer el rumbo. Este nivel te permite todo lo anterior y además:
. Te enviaré este material en formato pdf y epub.
. Tendrás acceso a material extra sobre ambas ambientaciones. 
Rahla or Rebel / Rahla o Rebelde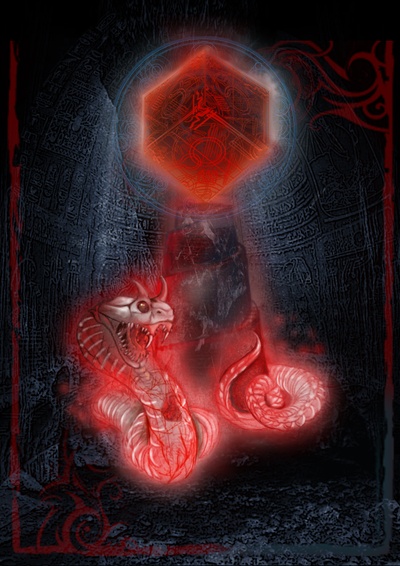 (Cover by Calavera Diablo / Ilustración de Calavera Diablo)  
ENG   
 You are Rahla and the origin of AloneWorld, or a rebel who planning Humanity's return to Earth. This level provides you with all the aforementioned, and:
. You are part of a group that helps me to make editorial decisions. 
. You will be mentioned in the acknowledgements of all my AloneWorld and Destiny works.
ESP
 Eres Rahla y origen de MundoSolo o rebelde que planea que la Humanidad regrese a la Tierra. Este nivel te permite todo lo anterior y además:
. Formar parte de un grupo que me ayudará a tomar decisiones editoriales.
. Mereces figurar en los agradecimientos de todas mis obras pertenecientes a MundoSolo y Destino.  
About


ESP
Soy Juan González Mesa, escritor español de género sobrenatural y ciencia ficción. He ganado el premio Ciudad de Utrera de Terror, he sido tres veces nominado a los Ignotus, al Alberto Magno, al Guillermo de Baskerville, y he ganado varios premios de relato. Ahora quiero mantener una relación distinta, más directa, con vosotros, lectores interesados en ficción exclusiva y provocativa.
Por eso os voy a ofrecer relatos y os voy a ofrecer novelas por capítulos, algunas solo en español, pero la mayoría traducidas al inglés. ¿Queréis género sobrenatural? Lo tendréis. ¿Queréis ciencia ficción? La tendréis. ¿Queréis niebla, sangre, amor, lamento y victoria?
Ya sabéis la respuesta.

ENG
Let me introduce myself first: I'm Juan González Mesa, a Spanish author of supernatural and science fiction. Winner of the Ciudad de Utrera Horror Award, and nominated three times to the Ignotus Awards (Spain Hugos), the Alberto Magno and the Guillermo de Baskerville Awards, my short stories have honored numerous times over the years. I would like to establish a more meaningful and direct relationship with you, reader of interesting and provocative fiction, so I'm going to offer you short stories and chapters of my upcoming novels, some only in Spanish but most translated into English. Do you want supernatural genre? You will have it. Do you prefer science fiction? You will have it. Do you crave for blood, fog, love, howls and victory? You already know the answer.ESP
Como ya he dicho antes, escribo principalmente sobrenatural y ciencia ficción. Mi intención al pediros ayuda en Patreon es la de poder desarrollar con tranquilidad y tiempo una ambientación en la que llevo trabajando desde que escribo, en la que está enmarcada la novela Gente Muerta. Esta ambientación sobrenatural, a la que llamo MundoSolo, alberga ya otras novelas cortas, ubicadas en distintas épocas, pero es un material insuficiente. Se trata de un universo que engloba mi propia visión del Sueño y del Infierno, con cronologías, panteones, héroes y villanos, lenguas y leyes. Abarca una nueva concepción de la historia del ser humano en nuestro Mundo de Leyes Muertas y la descripción de razas de criaturas y seres únicos, sectas y organizaciones vinculadas a lo sobrenatural y sus códigos, su historia, su lenguaje operativo y sus figuras míticas.
El proyecto constará de relatos y sagas de novelas, manuales y documentos históricos, espero que ilustraciones y quizá juegos que salgan de esta ambientación.
Necesito tiempo y apoyo para poder suministraros material cada mes, entregarlo en un formato profesional, corregido, maquetado, ilustrado y traducido, y no hay ninguna editorial capaz de seguirme el ritmo en esto. Por eso necesito vuestra ayuda; el tiempo, lamentablemente, se compra con dinero, el mío y el de los otros profesionales necesarios.
Además de MundoSolo y su encuadre sobrenatural, tengo la intención de desarrollar una ambientación de Ciencia Ficción a la que llamo Destino. A lo largo de los siglos iremos conociendo el destino de la humanidad más allá del planeta Tierra, su compleja interacción con otras civilizaciones, marcada por el espionaje, el conflicto bélico y la búsqueda de la paz, o al menos de armisticios que nos permitan sobrevivir en inmensas bases espaciales, lunas inhóspitas o planetas salvajes en los que empezar de cero.
La exploración de entornos desconocidos, el acercamiento a otras civilizaciones, la supervivencia tratada desde todos los ángulos, de la política a la agricultura, de la filosofía a la guerra, la historia de la humanidad envuelta en brumas y teorías contradictorias, y la historia, costumbres, tecnología, religión y extraordinaria naturaleza de todas las otras civilizaciones que medran en el universo, progresan o se extinguen sin remedio.
Unamos fuerzas. Alumbremos juntos Destino y MundoSolo. Descubramos hasta dónde somos capaces de llegar.
ENG
As I said before, I write mainly supernatural and science fiction. In asking for your help via Patreon, my objective is to secure the resources I need to expand a universe in which I have been working since I started telling stories, the one displayed in my novel Dead People. I call this supernatural universe AloneWorld, and a few of my novellas are set in it, although in different time periods. This setting conveys my own vision about Dreams and Hell with its chronologies, pantheons, heroes and villains, languages and laws. It includes a new history of humankind in our World of Dead Laws, describing races of creatures and unique beings, sects and organizations linked to the supernatural, as well as its codes of behavior, traditions, operating language and myths.
This project will include stories and novel series, guidebooks and historic documents and illustrations and even games, I hope.
I need time and support to offer you monthly material, to deliver it to you in a professional manner, as well as to review, edit, illustrate and translate it because, let's be honest, there is no publisher who can keep up with me. That's why I need your help: money buys time, unfortunately, and not only my time but also that of the professionals I will need to bring in.
In addition to AloneWorld and its supernatural background, I want to develop a science fiction universe called Destiny. Along many centuries, we will learn about humankind destiny beyond planet Earth, full of complex interactions with other civilizations, stricken by espionage, war conflicts and the search for peace, with armistices that will allow humans to survive in giant space stations, inhospitable moons or hostile planets.
There will be: exploration of unknown environments; encounters with other civilizations; different ways of surviving examined from diverse angles, from politics and agriculture to philosophy and war. In summary, the history of humans wrapped in contradictory theories, as well as the traditions, technologies, religions, and extraordinary nature of all civilizations living in the universe, while dying or thriving.
Let's unite forces. Let's start together Destiny and AloneWorld. Let's discover how far can we go.


ENG
 Goal 1. If we reach 500 dollars a month:
- I will be able to gradually pay for the work of other professionals to commission illustrations and layout for all written material.
- I will forward this material to those at level 2.
- People at level 3 will also be asked about priorities when improving material.

ESP
 Objetivo 1. Si llegamos a 500 dólares al mes:
- Podré pagar paulatinamente el trabajo de otros profesionales para encargar ilustraciones y maquetación para todo el material escrito.
- Reenviaré dicho material al que tenga nivel 2.
- Los que tengáis nivel 3, además, seréis consultados sobre las prioridades en esta mejora del material.
1 of 3
By becoming a patron, you'll instantly unlock access to 39 exclusive posts
By becoming a patron, you'll instantly unlock access to 39 exclusive posts