Jim Hinckley
is creating community educational programs
Select a membership level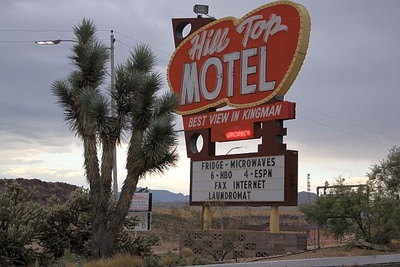 Patron
Thank you! One dollar may not seem like much in the grand scheme of things but your contribution is key to keeping the Facebook live programs rolling, developing new content for the blog posts, to providing travel planning assistance, and to our promotion of small town America. 
A standing invitation to Facebook live programs and presentations are just one way of saying thank you. And, if we can coordinate our schedules, you have an invitation to coffee and conversation. 
Welcome To Jim Hinckley's America
Your support is most appreciated. We are building a travel media network that is of benefit to the traveler and a valuable  resource for small town America. If we can coordinate our schedules it would be my pleasure to share some conversation and coffee. 
Jim Hinckley's America Travel Club
As our partner in project development, we will provide updates on request. We would also like to say thank you by offering discounts on a Kingman, Arizona historic district walking tour as well as books ordered. Just contact us for details. 
About Jim Hinckley
Route 66 is our primary focus, but this is Jim Hinckley's America. So, we work to provide everything that a community needs for harnessing the power of Route 66 as a catalyst for revitalization and economic development. Linked with this are projects that provide travelers with tools for planning adventures on the back roads and two lane highways of America.
Jim Hinckley's America was born of an epiphany that occurred in 1990. After years of being told that I had a gift for telling people where to go, the decision was made to do so professionally. It began with the writing of feature articles for various publications, and then books (19 to date). Inspiring adventures was quite satisfying but a day job was needed to support the writing habit. 
Then I learned that writing, a blog, presentations, and the use of a social media network could inspire road trips AND enable communities to develop tourism that enhanced road trips. These endeavors could also be used to provide struggling authors, artists, and event organizers with a promotional boost. This was even more satisfying but the day job constrained what I do best - telling people where to go. 
So, I turned to Patreon and asked fans to lend the support needed for me to devote all of my time to the development of projects that inspires road trips and that inspire communities to become destinations for road trippers. 
Now, a few examples of how our partnership touches people from throughout the world. 
If you didn't attend tonight's Route 66 Meet & Greet with Jim Hinckley's Video & Live Presentation about his trip to Europe and the 2nd International Route 66 Festival, you certainly missed an eye opening experience.
Maybe if enough of you who missed it ask him to please give it again, he might; and you won't want to miss it. I would certainly want to see it again and hear all about the remarkable impact our Route 66 has on people from all over the world. Thank you Jim for providing a truly amazing evening.
STEVEWAGNER

KINGMAN PREMIER PROPERTIES


Shelley Gomez, "Had an amazing dinner and tour around Kingman, AZ courtesy of Mr Jim HInckley. It was amazing to hear his stories and information about the old road and his own personal story as well. If it were up to Alex we would all be out still climbing around the rocks and hills of Kingman. Tomorrow we will get to see a couple more really cool things thanks to Mr Hinckley ... I'm blown away by his generosity. "
Franco Zefferi, "Jim is an inexhaustible source of information on the history and places of route 66 and listen to him while telling the anecdotes linked to this street is an extraordinary experience." 

Sylvie Toullec, "All the pleasure was for Freddy and me to be with you in Kingman. What could be a better guide than you??? You are the best my dear Jim!" 

Meghan Saar, Editor at True West Magazine, "Jim Hinckley is our go-to guy when it comes to ghost towns in the American West. His professionalism is obvious from the published books he has written on the topic, and we enjoy working with him at True West magazine."

Tina Luster, Communications Manager at Sonoma County Tourism Bureau, "Jim provided stories to me when I was editor of "the weekender," a weekly arts and entertainment publication that covered the tri-state area of Nevada, Arizona, and California.
His love of history and automobiles made his feature stories come alive. I also had the pleasure of working with Jim on several stories. Our collaborations became adventures that still make me laugh.
Even with all the fun, Jim's work ethic and integrity meant I was able to publish quality pieces in a timely manner.
I'm proud to be one of the first editors who worked with Jim. If I was in a position to work with Jim again, I would do it in an heart beat."


This is it. With just 25 patrons we can add a weekly news and events program for travelers that centers on Route 66 and two lane adventures. 



2 of 6
Recent posts by Jim Hinckley