Jim Thayer
is creating short stories, folklore and yarns
Select a membership level
Wizard: Finding the culture in place.
Every bit helps to feed and shelter us. The little extra "help from our friends"  supports my consistent desire to express a "fantastic realist" perspective.  Stick with me as I try to slip into fiction. I will share my thoughts  as I go about collecting a more comprehensive repetoire of of the many adventures and mis-adventures that befell those that wandered into Oregon's NW Corner . For
Wizards
I will:
Blog about my inspirations
Patrons get updates on work before anywhere else
Patron-only polls
Seer: Images and maps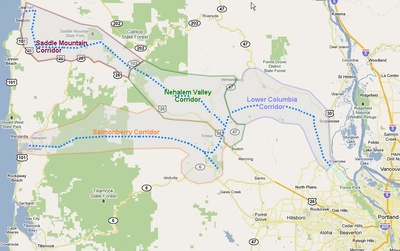 Seers
are gifted because they know about some event in the  future. This gives seers a unique clarity with which to understand the magic realism of Oregon's remote mountains. 
"Seer" level patrons will get a special map that will be produced to accompany the 
 current focus of the people and places along the Lower Columbia River.  In addition Seer patrons will get:
Blog about my inspirations
Patrons get updates on work before anywhere else
Patron-only polls
Maps!
Limited (100 of 100 remaining)
Get a detailed maps of trails and historical locations every month. This patron receives their choice of .gpx or .jpg formats. 
About
Who Am I?
I'm Jim Thayer, creator and host of
Foresthiker.com
, an Oregon hiking website.
Since the early 1990's I have been exploring the densely overgrown and largely untraveled roads and trails between Portland and the Pacific Ocean. On my
Foresthiker website
I have fastidiously mapped and photographed these trails to record the fast disappearing evidence of how people traveled and lived in Oregon's rugged Coast Range.
Lately, I have been supplementing these trail surveys with a rich assortment of local tales, folklore and Indian legends. My first book,
Portland Forest Hikes
, explored the largely undocumented trails located north of Forest Park in Portland. My most recent book,
Hiking from Portland to the Coast
, (Oregon University Press, 2016) linked 30 trails in the Coast Range with true accounts of what life was like in these remote mountains in the 18th and 19th centuries.
Why Patreon?
Increasingly, the focus of my work has shifted from surveying remote trails to researching local anecdotes, documenting historical events, tracing old Indian tales and collecting the folklore that has grown up about these remote places.
This growing body of folklore and non-fiction stories is worthy of appreciation on its own. So I have chosen to use
Patreon
to highlight this aspect of my work. My goal is to compile an anthology of local stories that will serve as a kind of cultural map for Oregon's rugged northwest woods. From time to time I may also slip in some true stories from my own youth - experiences that only go to amaze me of the breadth of wild experiences I've had and that I'm still alive.
In short this is a site devoted to sharing and learning (from you) what works in writing short format non-fiction. That sounds like an awful academic description. Read the stories they're much better!
I will publish an anthology and autograph it.

1 of 2
Recent posts by Jim Thayer