Joby Dorr
is creating Paintings, Illustrations, Drawings, Education... and Tattoos!
Select a membership level
Window Shopper
Fascinated and enthralled by the mystique, but still too shy to come in and say hello. Maybe you wave and smile when you pass by on your way to work.
Window Shoppers will receive:
My Love and Appreciation
Knowing that you are there is reason enough to get up in the morning. Truly you are doing more for me than you can imagine. Thank you!
Access to the Newsletter and Blog
You will get exclusive access to news, secret offers and information about upcoming developments. I will also occasionally share behind the scenes information, personal content and videos, inspirations, motivations and much more.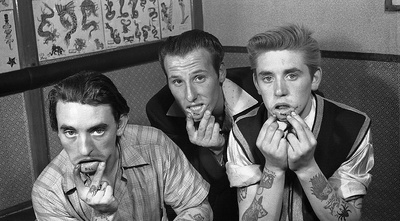 Shop Tart
You are a quirky bunch. Maybe you get some work done, maybe not. Mostly its just about hangin' out and shootin' the sh*t but your love and support should never be underestimated. If we haven't seen you in a  while we start to worry.
Shop Tarts will receive:
All Previous Rewards
My Love and Admiration
Access to the Newsletter and Blog
--PLUS--
Discounts (or Pay-It-Forward)
If you are getting tattooed by me or plan to in the near future this benefit rewrads you with a permanent reduction to your hourly rate. It will always be $5 less than my standard fee regardless of how much you get tattooed. If you are not getting tattooed by me I will apply this credit to a client I am currently tattooing!!! You will instead be able to use a 5% discount code for any print or commission purchase.
 Giveaways
Once a month I will randomly choose 1 patron who will receive a small piece of original art. Minimum size 3"x5". giveaways will be held in a private Discord channel. you do not need to be present to participate
A Private Channel on Discord Server
This will be your private corner of the internet. Share art, stories, memes, whatever you want. Make it as private or public as you want. You will retain this channel even if you discontinue your tier subscription in the future.
Access to the Archives
Every month I will share a folder from my cloud storage containing all the art that was created for the month. This will include jpegs, PSD files,  and high quality scans (when available) of original art. Not included, or rarely included are original line drawings for tattoo designs. Most of these will be reserved for apprentice level collections.
Collector Confidante
Not just your average client, you have become a trusted friend. You know the secrets and the gossip, you know the names, the numbers and you know where the bodies are buried.  
Collector Confidante will receive:
All Previous Rewards
My love and Admiration
Access to the Newsletter and Blog
Hourly Rate Discount
Giveaways
Private Discord Channel
Mini Tutorials
Art Collection
--PLUS--
Session Discount (or Pay-It-Forward)
$10 will be deducted from one tattoo appointment of your choice, *per month*. If you are not getting tattooed by me, this discount will be forwarded to one of my current clients. Instead you will be able to deduct an extra 5% from any print or commission purchase.
Art Collection
As the months go by and you continue to be a dedicated supporter a randomly selected small print of my choice will be sent to you! The print will be sent to all eligible patrons but maybe.....just maybe.....there might be the occasionally, randomly selected original piece!!
More frequently I will be sending you quick sketches. This could be little figure studies, character drawings, or..who knows?
Recognition
Following every livestream credits roll and your name will be included in the list of invaluable individuals who are keeping the dream alive. Thank YOU!!
 Private LiveStreams
once a month I will host a private livestream accessible to patrons only. The content of these streams will cover a variety of topics including but not limited to: instructional demos, interviews, round-tables or maybe even movie nights!
About Joby Dorr
Hello! Thank you for coming to my Patreon page!
I am a tattoo artist and freelance illustrator in Seattle. I have been tattooing for 20 years and tattooing is my first love and greatest passion behind my wife and son. I don't have a particular specialty, I like to think of myself as generalist but you will see strong influences from traditional Japanese tattooing in my work as well as from the art nouveau period.
I do freelance illustration as well, including commission work for character designs, original intellectual properties, D&D character portraits, comics, family portraits, book covers and more.
Creating and sharing art is the primary intent behind creating this Patreon page but of near equal importance is the profound desire I have to share the knowledge I have gained as a working artist.
I have fallen in love with teaching others
and I want to help you find and walk the path of developing artistic ability. The truth is that there is no such thing as talent, luck or gift.
The only thing standing between you and a highly advanced art skill is a lot of hard work
and I swear to you on all that is holy I can take you there if you are willing to do the hard work.
I can show you the way and give you the tools to do the work but I cant do the work for you.
You can see my full portfolio and learn more about my work on my website
jobydorr.com

You can also see me creating the art and the tattoos live on 
Twitch.tv
Reaching this goal means I take an extra day off from my day job to work on more art and education projects. Ultimately I hope to reach four extra days off per month. I love my job but I also want to be able to create more art, more illustrations, paintings and drawings. Most importantly I want to be more available for students who I work with to develop art and business skills!

Thank you for helping me get one step closer to achieving this goal!!
1 of 4
Recent posts by Joby Dorr
By becoming a patron, you'll instantly unlock access to 18 exclusive posts
By becoming a patron, you'll instantly unlock access to 18 exclusive posts